The Essence
Cooperation with business alliances is nowadays crucial for creating opportunities in trade, investments, development of operational processes and risk management.
For this reason, AOT has defined operational guidelines to forge cooperation with all business alliances including airport operators, business partners and related entities both at home and abroad.
Long-term goals
The Sister Airport Agreement (SAA) is to provide a framework for cooperation with airport operators in many regions around the world.
Cooperation between airports and business associations
AOT establishes guidelines for cooperation with airport operators under the SAA and builds partnership with business alliances through its membership in the Airports Council International (ACI).
This task comes under the responsibility of the Office of Foreign Affairs under Corporate Strategy line which is entrusted to implement the AOT International Business Development Master Plan for the 2018-2024 fiscal years.
The master plan calls for expanding the scope of business to foreign countries according to the Strategy 7.1 of International business development under the AOT's corporate plan.
Sister Airport Agreement Project
Establishing Sister Airport Agreement is one of the main activities to promote collaboration with allied airports by means of exchanging information, knowledge, and skills which help to develop AOT's capabilities in accomplishing strategic goals.
| | |
| --- | --- |
| Indicators | Target 2020-2022 |
| Establishing Sister Airport Agreement (SAA) | Continuing to add at least one airport each year to SAA list |
Airports Council International (ACI)
The Airports Council International (ACI) is a global airport trade association founded in 1991 with the objective of supporting cooperation and overseeing the interests of its member airports and aviation alliances around the world through its developed standards and policies  related to airport operations such as IT, safety and environment, as well as conducting trainings and disseminating knowledge of best practices on a regular basis.
Cooperation with the public and private sectors
AOT regularly establishes projects to promote cooperation with public and private partners in different objectives with internal departments responsible for each issue of the project as follows:
Establishment of Pre-shipment Inspection Centre
AOT signed a memorandum of understanding on cooperation in quality inspection of perishable products before exporting in April 2019 with the Central Laboratory (Thailand) Co., Ltd.
The state-owned company, also known as Central Labs, is the sole provider of analysis of standards for perishable products in Thailand that has been certified according to European standards and supported by the Ministry of Transport, the Ministry of Agriculture and Cooperatives, Thai Airways International Public Co., Ltd , WFS-PG Cargo Co., Ltd and several other private companies.
The project provides an opportunity for farmers in Thailand and ASEAN countries to export more  perishable products such as vegetables, fruits and flowers to European countries by reducing the chance of being denied importation because the products do not meet the standards, trimming product loss, controlling shipping and storage and mitigating environmental impact arising from the transportation involved.
Policy-related support to external organisations
AOT has revealed expenditures for supporting external organisations in Thailand and abroad annually in the Sustainable Development Report to show transparency in the implementation of good practices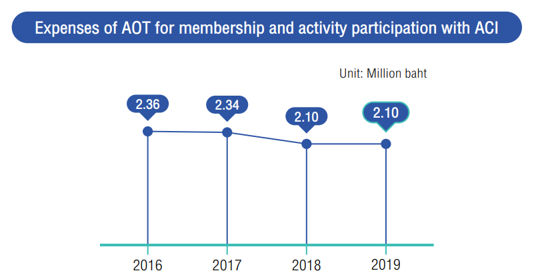 List of recipients of policy-related support in 2019
List of recipients of policy-related support in 2018