AOT's airport service business forms a nucleus of the country's economic development. The business comes under the responsibility of the Business Development and Marketing Line, Business Development and Marketing Department which follows the AOT Corporate Plan (Fiscal Years 2017-2022) to achieve business excellence in compliance with the 20-year National Strategy, Thailand 4.0 Policy, the 12th National Economic and Social Development Plan, Digital Economy (DE), Ministry of Transport Strategic Plan (2017-2021), the 5-Year State Enterprise Strategic Plan (2017-2021) and the Statement of Directions (SODs) delivered to shareholders
AOT's corporate plan consists of three Strategic Objectives as follows,
Objective of Strategy 1 is to develop infrastructure and facilities to maintain the level of service as per international standards.
Objective of Strategy 2 is to raise the efficiency of airport management and operations to comply with the safety and security standards.
Objective of Strategy 3 is to build financial growth by generating revenues from aeronautical and non-aeronautical sectors.
The attainment of the three strategic objectives drives overall economic growth of AOT.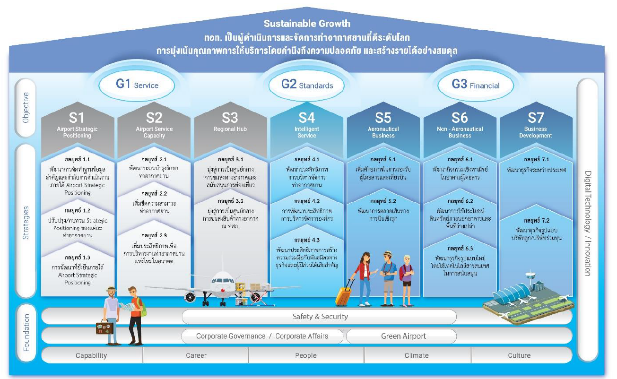 Management Approach
AOT's income derives from commercial activities related to aeronautical and non-aeronautical operations as well as new business development models as follows,
Airport Strategic positioning of AOT
AOT defines the strategic position of its airports by taking into account customers' needs, business context and opportunities, and strengths of each airport to attract target customers and develop airport services in the right direction with efficiency as follows,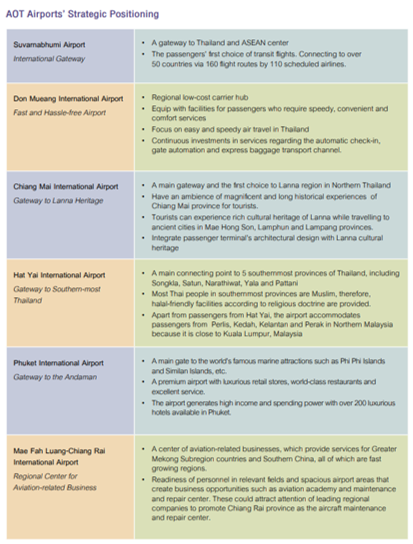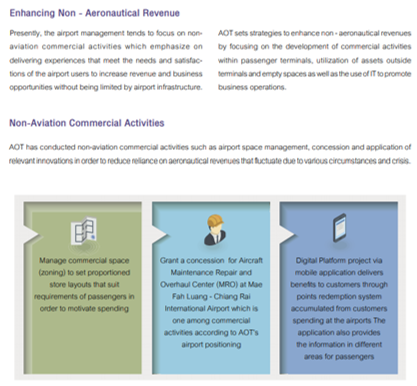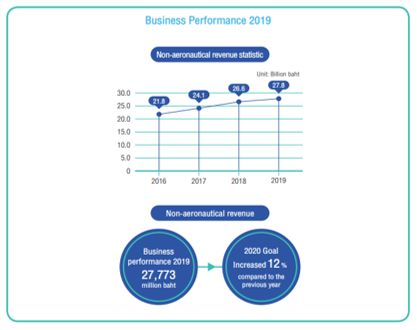 Boosting revenue from other businesses
AOT promotes revenue from the businesses related to airport services including ground services, security operations, hotel business and transportation business. These businesses are conducted through AOT's subsidiaries or joint venture companies based on business opportunities from surrounding context such as geographical strengths or business opportunities with neighbouring countries whose economies are growing.