Providing excellent service on a par with international standards is at the forefront of AOT's endeavour to impress travellers and users of AOT-operated airports which serve as a gateway to Thailand.
AOT zeroes in on applying standard customer relationship management throughout the organization to respond to the needs of three main groups of customers, namely commercial operators, airlines and passengers or users of the airport services to ensure maximum satisfaction while projecting a good image for AOT.
Long-term goals
Indicator
Target 2022
Airport Service Quality Evaluation (ASQ) Score

Suvarnabhumi Airport

Don Mueang International Airport

Chiang Mai International Airport

Hat Yai International Airport

Phuket International Airport

Mae Fah Luang - Chiang Rai International Airport

4.36

4.06

4.56

3.96

4.20

4.25
Management approach
AOT has formulated a strategy in response to the 2014-2019 Customer Relationship Management Master Plan that is in line with AOT's Corporate Plan (2017-2021) under the main strategy of 4.3 which seeks to foster cooperation with business alliance and major stakeholder.
This task is overseen by a working group chaired by the AOT Executive Vice President in charge of Business Development and Marketing.
Customer Satisfaction Survey
AOT measures the achievement from activities created to promote customer satisfaction through the Airport Service Quality (ASQ) project conducted by the Airport Council International (ACI) and the Satisfaction Survey which studies the needs of all groups of customers including  passengers, commercial operators within the airports and carriers.
The survey is conducted by AOT and consisting of face-to-face interviews (F2F), in-depth interviews and customer loyalty surveys, using assessment known as Net Promoter Score (NPS).
AOT reports the evaluation results in the Sustainable Development Report annually and using the results in strategic planning and service quality development projects as well as for improving work process efficiency to ensure continuous development.
More details
ACI - Airport Service Quality (ASQ) Official Site
Channels for lodging complaints and suggestions
AOT has put in place various channels of receiving complaints and suggestions as appropriate for each group of customers. Complaints that have been screened are forwarded to the relevant departments for improvement in accordance with the complaint management process. Statistical reports are then prepared, results of remedial actions taken are filed to the senior management of each airport on a monthly and quarterly basis.
The information thus obtained is shared with the Corporate Communications Department, Business Development and Marketing Department, and Research, Innovation and Service Quality Department for the purpose of enhancing the quality of service for customers, competitiveness and reviewing guidelines for handling complaints for maximum efficiency.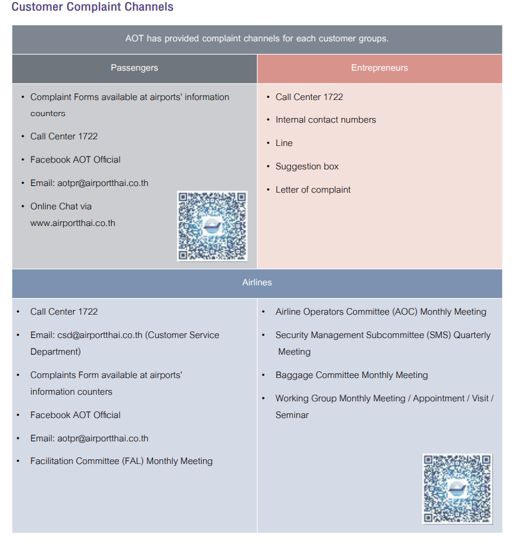 Types of complaint about airport users' satisfaction
Information on complaints, suggestions and compliments of AOT is divided into 17 categories, one suggestion type and one compliment type. The top five complaints appear in the Sustainable Development Report annually.
Examples of the types of complaints that AOT has compiled
More details :