Sustainable with Economy
The Essence
Airports of Thailand Public Company Limited (AOT) was established by transforming the entity of state-run Airports Authority of Thailand into a public company limited through a corporatization on September 30, 2002, with the head office located at 333 Cherdwutagard Road, Don Mueang District, Bangkok 10210, Thailand, phone: (66) 02-535-1192 and the securities registered under the name of 'AOT'.
AOT conducts airport service business with over 8,131 personnel in charge of management and development of six international airports namely Suvarnabhumi, Don Mueang, Chiang Mai, Hat Yai, Phuket, and Mae Fah Luang - Chiang Rai. These airports serve domestic and international flights.
Suvarnabhumi Airport began commercial operation on September 28, 2006 and has been Thailand's major hub initially capable of handling 45 million passengers per year, 1.7 million tons of cargo a year, and 68 flights per hour.
AOT's subsidiaries and associated companies
AOT has invested in seven companies operating airport-related and associated businesses. AOT holds 1.50% to 60% of the registered capital of those companies. The combined investment value is 1,001.72 million Baht, divided into one  subsidiary company namely the Suvarnabhumi Airport Hotel Company Limited (SAH) in which AOT holds more than 50% shares, and six associated companies in which AOT has less than 50% shares each as follows,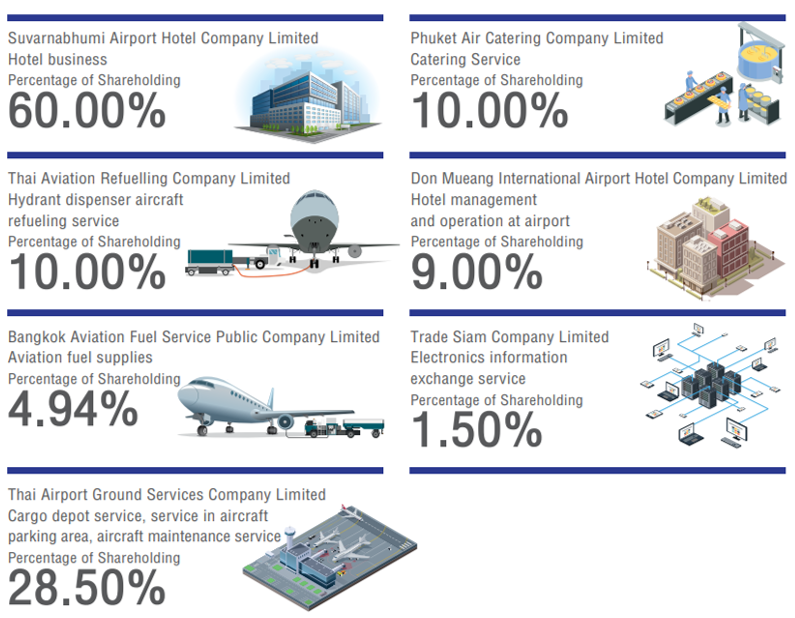 Note: Data collected at the end of fiscal year 2017