Explanation of the material topic and its boundary
Airports are essential basic structures, as a key support for national development and local businesses since airports support the growth of tourism industry, transportation and logistics as well as imports and exports. For these reasons, AOT is committed to excellence in economic operations to provide a foundation for an expansion of the above industries at the regional and global levels.
Our operatons shall be conducted according to the revised version of AOT Corporate Plan (Fiscal Years 2017 – 2022) to gear towards business excellence according to plans and policies at all levels, i.e., the Sufficiency Economy Philosophy, Thailand's 20-Year National Strategy, Thailand 4.0, Thailand's Twelfth National Economic and Social Development Plan, the Digital Economy (DE) Plan, the 5-Year State Enterprise Strategic Plan (2017 – 2021), and the Statement of Directors: SODs.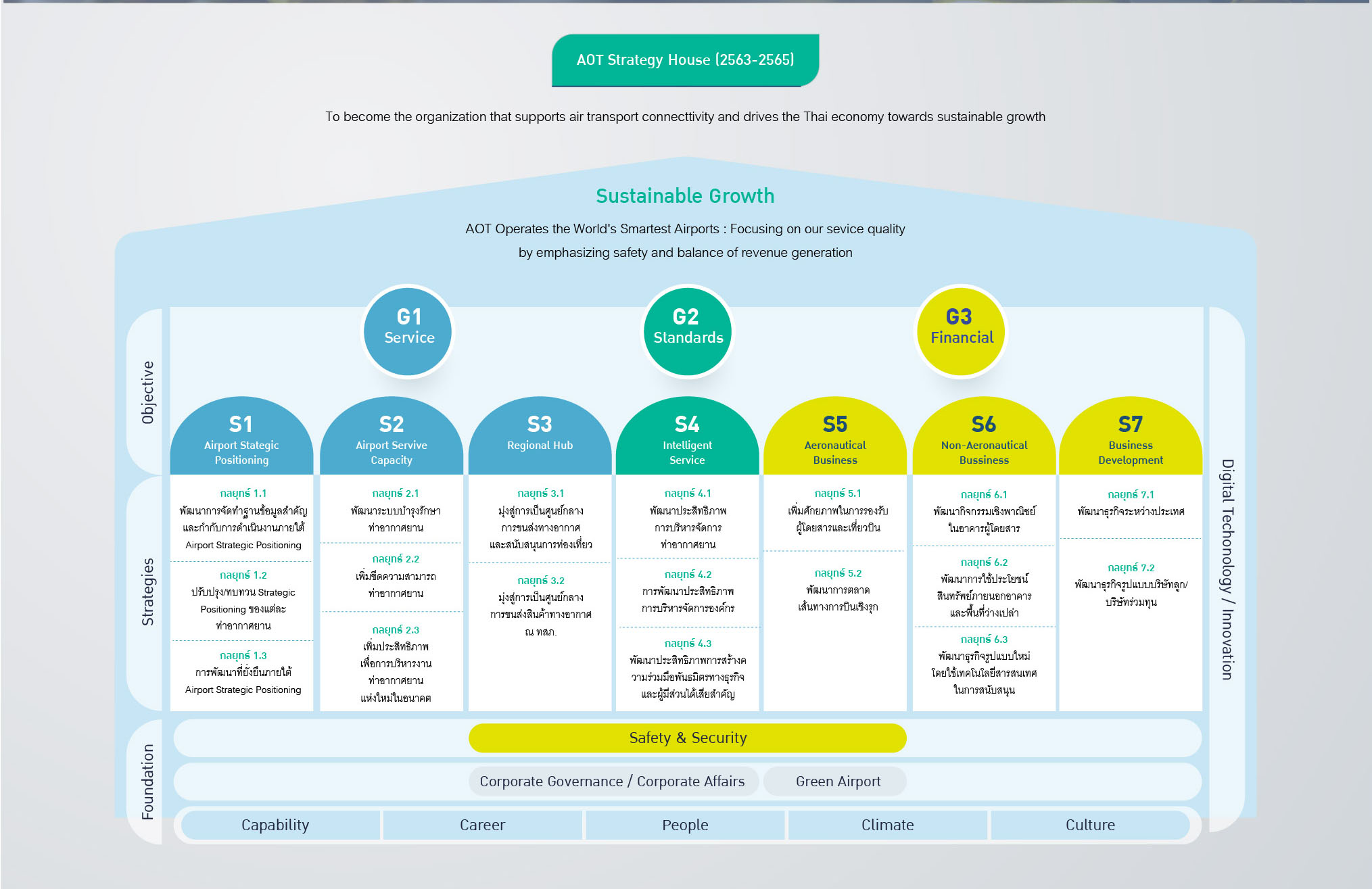 The management approach and its components
AOT's main revenue derives from commercial activities which are related to aeronautical revenue and non-aeronautical revenue, including business developments whose approaches are as follows:
Boosting Aeronautical Revenue
AOT has been boosting aeronautical revenue by focusing on domestic and international market development, customer relations, passenger and airline service efficiency development.
AOT Airport Strategic Positioning
AOT has developed a strategic positioning of each airport by taking into account the customer needs, business context, and strength of each airport to attract the target groups and to improve our airport services for better efficiency with the following details:
Boosting Non-Aeronautical Revenue
AOT has been increasing non-aeronautical revenue with three activities: commercial activities inside passenger terminals, use of assets located outside buildings and empty spaces, and use of information technology for service quality improvement.
Increasing revenue of other businesses
AOT has been developing new businesses to expand our main businesses and related businesses while setting up airport joint ventures with business alliances at the domestic level and the ASEAN regional level.