Meeting of CEOs between AOT and Munich Airport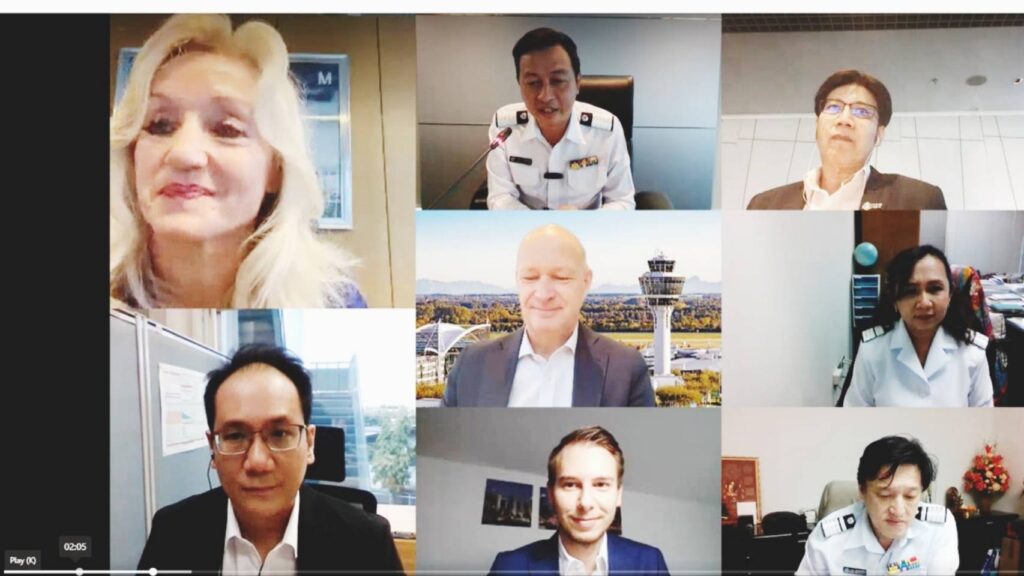 On 18th October 2021, Dr. Nitinai Sirismatthakarn, President of AOT, Mr. Anake Teeraviwatchai, Senior Executive Vice President of Corporate Strategy and Ms. Saranya Boonyawattana, Executive Vice President of Office of Foreign Affairs, together with representatives of the Foreign Cooperation and Protocol Department, held an on-line meeting via Microsoft Teams with top executives of Munich Airport (MUC) led by Mr. Jost Lammers, President and CEO of MUC, Ms.Theresa Fleidl, Vice President and Head of Sister Airport Office and Mr. Josef Manhart, International HR Cooperation and Sister Airport Office. The meeting included a variety of topics such as aviation situations in Thailand and Federal Republic of Germany, recovery of the air traffic after the pandemic, progress of vaccination in both countries, Phuket Sandbox Project and Samui Plus as well as future cooperation between MUC and AOT.
Since AOT and MUC entered into the Sister Airport Agreement on 16th December 2009, AOT has received good cooperation from MUC in exchanging information and best practices in airport management and operations as well as sending staff to attend on-the-job trainings with MUC Airport and vice versa.