Collaboration and Business Alliancesa
Explanation of the material topic and its boundary
The collaborations amongst business partners have been regarded as the important factor which enhances business investment opportunities as well as operational process development and risk management in the current era. For these reasons, AOT has established operational directions to enhance engagement with business partners, including airport management companies, trading partners, and related agencies - domestic and international.
Collaboration with Airports and Business Associations
AOT has established directions in collaboration amongst airports under the Sister Airport Agreement (SAA) and has enhanced engagement with business partners by becoming a member of Airports Council International (ACI) under the responsibility of the Office of International Affairs – Strategy Division in conducting operations according to AOT International Business Development Master Plan (Fiscal Years 2018 – 2024) which aims to expand AOT's business internationally in accordance with Strategy 7.1 International Business Development under the AOT Corporate Plan.
Collaboration with the Government Sector and the Private Sector
The Sister Airport Agreement (SAA) promotes activities which enhance collaboration with airport partners to improve the performance of airport management and to share best practices around airport operations, knowledge, technology and new innovations to elevate the quality of airport services to the international levels. The main activities conducted under the agreement can be divided into the following four categories: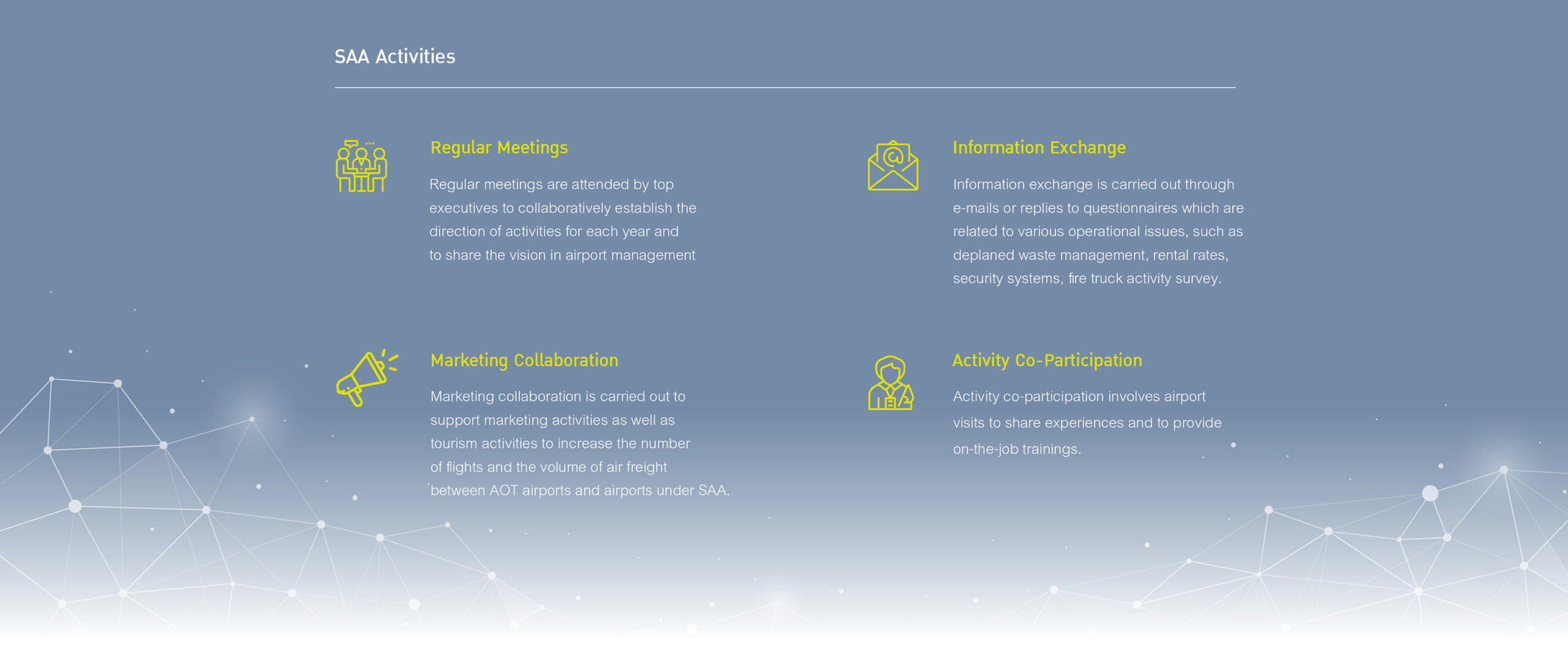 Airports Council International
Airports Council International (ACI) is the association of the world's airports to support collaboration amongst members, including international aviation partners, to look after their benefits by developing standards and policies related to various aspects, such as services, information technology, safety, and the environment, while regularly providing trainings and principles of best practice learning.
AOT has been a member of ACI since 1991 and has been honored to represent airports in the Asia-Pacific Region to share knowledge on airport safety, security, the environment, economy, human resources, airport information technology, and airport slots while sending AOT's representatives to take part in the Ad Hoc Committee on COVID-19. The roles taken at ACI have helped increase opportunities of establishment of operational directions at the domestic and international levels to result in business and marketing opportunities and the status of a leader in the airport service industry for AOT.
Collaboration with the Government Sector and the Private Sector
AOT has implemented projects to enhance collaboration with the government sector and the private sector in a consistent manner to achieve various objectives. The most outstanding projects are as follows:
Preshipment Inspection Center
AOT has set up the Preshipment Inspection Center to elevate the agricultural product quality inspection standards prior to export and to encourage exports of agricultural products while adding value to produce before selling overseas to benefit the air freight and logistics industry of Thailand.
In the first phase, AOT will set up a venue for Perishable Premium Lane (PPL) to provide extra services and convenience to exporters – an add-on compared to the Business Class for passengers. Furthermore, products inspected by PPL will be well taken care of and prepared for boarding by air cargo specialists. The PPL Project has divided its services into the following categories:
(1) Ready for Carriages
(2) Bulk Utilization Program (BUP)
(3) Cool Chain Transportation
(4) Cool Down Service
(5) Product Safety Inspection in accordance with Regulated Agent (RA) and RA3 Standards
Moreover, the PPL Project is a collaboration amongst the Ministry of Transport, the Ministry of Agriculture and Cooperatives, Thai Airways International Public Company Limited, WFS-PG Cargo Company Limited, and various private companies which have cooperated to support and elevate the standards of Thai agricultural products to international levels in order to enhance the competency of Thai exporters for the global markets and to support Thailand as ASEAN's logistics hub.
Collaboration with government sector and field operators to cope with COVID-19 pandemic
AOT has collaborated with the government sector and the private sector located in AOT's areas to effectively manage the COVID-19 pandemic through the following activities: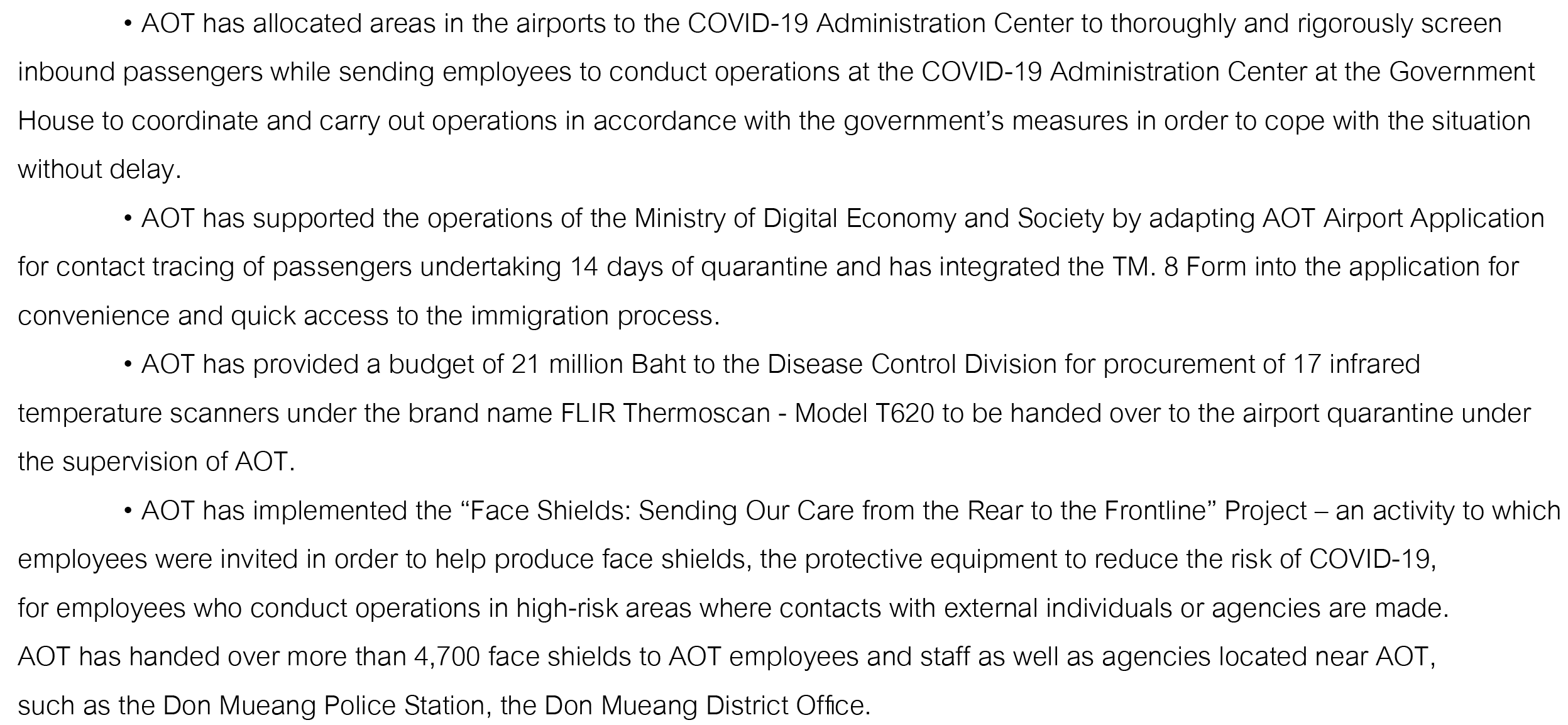 Political Contributions to External Organizations
AOT has annually revealed the total amount of expenses that support external organizations - domestic and international - with transparency in the Sustainable Development Report to demonstrate operational transparency in accordance with the best practice principles.