AOT Organizes AOT Sister Airport CEO Forum 20165, under the concept of Collaboration Towards Successful Future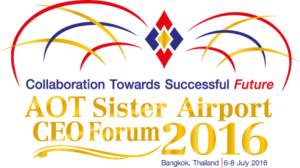 AOT organizes AOT Sister AIrport CEO Forum 2016, under the concept of Collaboration Towards Successful Future
Airports of Thailand Public Company Limited (AOT) held a discussion meeting AOT Sister AIrport CEO Forum 2016 during 6 – 8 July 2016 under the concept Collaboration towards successful future, which is a meeting between the top exectuvie of AOT and the world's leading airports and airports in ASEAN+6
Mr. Arkhon Termpittayapaisith, the Minister of Transport presided over the opening ceremony of the forum at Novotel Suvarnabhumi Hotel, Samut Prakan Province and a special lecture by MRs. Kobkarn Wattanavrangkun, Minister of Tourism and Sports, Mr. Arun Mishra, Regional Director of ICAO (Internaitonal Civil Aviation Organization) Asia and Pacofic Office and Dr.Nitinai Sirismatthakarn, President of AOT, mentioned that the aviation sector is a bsuiness that plays an improtant role in the era of connection various regions of the world.
At the same time, there are factors affecting the operation of this business. both positive and negative quickly Including the development of service capabilities that take into account meeting various service expectations coupled with quality conditions that focus on above-standard service. Moreover, advances in aviation technology and service factors make the airport organization airlines and related business entities in the aviation industry need to work together and build a strong network of business alliances to be able to grow sustainably amidst the challenges and rapidly changing industry trends Over the next three years, the global airport industry is projected to grow revenues of approximately $157.2 billion.

In which the revenue model of the airport business will be shifted to more non-aviation related income, for example, the development of business areas that enhance the convenience of passengers as new cities are born, with shops, restaurants recreational activities and accommodation, etc., to meet the rapidly growing travel demand in the past 5 years. AOT had an average growth of 14% in passenger numbers in 2015. AOT has provided services and facilitated passengers, both Thais and foreigners, totaling more than 110 million people. Currently, all 6 AOT's airports have the capacity to accommodate 83.5 million passengers. AOT plans to invest in the development of 6 airports of AOT in the next 5 - 10 years with an amount of approximately 1940 billion baht and when completed, it will be able to handle 181 million passengers per year, AOT is in the process of expanding the capacity of the Suvarnabhumi airport to support 90 million passengers per year by 2019

Meanwhile, Don Mueang Airport had a growth of more than 40 percent in passenger numbers and more than 30 percent of flights last year. As a result, it has become the world's No. 1 low-cost carrier airport. In February 2015, the Don Mueang Airport Development Project Phase 3 will increase the capacity to accommodate passengers from 30 million to 40 million people per year. In the region, it is constantly developing and expanding its capabilities. It is predicted that in 2035 or another 20 years ahead, Suvarnabhumi Airport which is the country's main airport, will receive up to 120 million passengers per year and almost 600,000 flights per year, Mr. Nitinai added that Currently, there have been economic changes in some regions. In the past, developed countries were popular for long-haul routes and travel on a full-service airline (Full-service airline) has changed to emerging countries that are popular for short distance travel and travel by small aircraft on point-to-point routes. Management guidelines need to be adjusted to be effective and suitable for the changing environment. by turning to cooperate between airports instead of managing a single airport system (Single Airport Model)

This AOT Sister Airport CEO Forum 2016 discussion was organized under the concept of building a network of cooperation for future success. (Collaboration towards Successful Future), which will be very beneficial as it is a great opportunity for the top executives of leading airports to attend meetings to exchange and share experiences with each other, such as Beijing International Airport Munich Airport Narita International Airport Kansai International Airport and Osaka Airport These are all world-class airports that have been successful in service quality and business operations with various topics.

There will be discussions within the event, such as current challenges and business trends. The Current Challenges and Future Trends in Airport Business are: Aging Society, Terrorism, Technology, Globalization, National Growth. In the Eastern Hemisphere (Power Shift Eastwards) Sustainable Development taking into account the environment (Environment) enhancing Passenger Experience for Airport Service Excellence (Enhancing Passenger Experience for Airport Service Excellence) Future Trends for Generating Airport Revenues.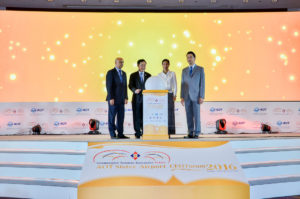 At present, AOT has established a memorandum of cooperation between airports (Sister Airport Agreement: SAA) with the objective of In terms of information exchange between airports, staff training and exchange, airport visits, regular meetings, and business cooperation.  It has been in operation since 2009 until the present. A total of 11 airport management organizations around the world have signed the Memorandum of Understanding, with 15 airports under the MOU from eight countries in four regions. Eight places participated in the discussion, including Dr. Nitinai Sirisatthakarn, President of AOT. Dr.Michael Kerkloh, President & CEO of Flughafen Munchen GmbH (FMG), Mr.Makoto Natsume, President & CEO of Narita International Airport, Mr.Han Zhiliang, President & CEO of Beijing Capital International Airport Company Limited (BCIA), Mr.Somboun Daosavanh, Director General of Lao Airports Authority, Mr.Sulaiman Zainul Abidin, COO of Pioneer Aerodrome Services Company Limited & Yangon Aerodrome Services Company Limited, Mr.Yoshiyuki Yamaya, CEO of Kansai Airports and Mr.Wang Jijea, Vice President of Shanghai Airport Authority.  The panelists were also experts in aviation and airport business: Dr. Pierre Coutu, President of Aviation Strategies International, Ms.Theresa Fleidl, Vice President in HR Marketing and Head of Sister Airport Office, Munich Airport and Mr. Gordon Hamilton, Senior Vice – President, Airport Business Operations, Aviation Strategies International

Dr. Nitinai said in the end that AOT believes that this discussion This will give attendees the opportunity to receive information and exchange experiences. including seeing opportunities to initiate new projects to improve the efficiency of the administration or the provision of services to passengers including the initiation of business cooperation projects with airports in the future as well as strengthening good relations between the executives of such airports.