AOT forges alliance with Istanbul Airport for airport development collaboration
AOT forges alliance with Istanbul Airport for airport development collaboration
The Airports of Thailand PLC (AOT) has forged an alliance with the Istanbul Airport to collaborate on best practices
in route development, technology and innovation conducive to passenger experience and cargo operations.
AOT President, Mr. Nitinai Sirismatthakarn and Mr. Kadri Samsunlu, Chief Executive Officer of iGA
Havalimanı İşletmesi A.Ş., the operator of Istanbul Airport, have activated the collaboration with the conclusion
of the Sister Airport Agreement (SAA) on 30 November at the Pullman Bangkok King Power Hotel, Bangkok.
The signing ceremony was attended by senior executives of AOT and the iGA including Mr. Majid Khan,
Vice President of Aviation Development, Mr. Gokhan Dolek, Aviation Development Manager
and Ms. Efsun Tumer, Corporate Communications A. Manager.
The iGA has thus joined the pool of 13 companies and organizations that manage 17 international airports
in 10 countries to collaborate with the top Thai airport operator in the name of sister airports.
The iGA, which operates the busiest airport in Europe and is growing exponentially, is a sound learning source
for sharing information on capability and strategy development and best practices. The collaboration will zero in
on route development, technology and innovation development for enhancing passenger experience as well as
the development of air freight systems. The collaboration will be undertaken through regular meetings,
exchange of information, joint aviation development and destination promotion activities, and joint employee activities.
The Istanbul Airport is Türkiye's mega aviation hub with cutting-edge facilities oriented towards creating
a good experience for passengers. The airport has won accolades - The World's Most Family Friendly Airport 2022
and Best Airport in Southern Europe from Skytrax; and the Busiest Airport in Europe in 2022, among others.
It is one of the world's fastest growing airports with an average of 1,310 flight movements per day so far in 2022,
an increase of 34.1% compared to 2021, and accommodating 47.6 million passengers a year.
When its development is completed in 2028, The Istanbul Airport will be able to serve up to 200 million passengers
a year, up from the current capacity of 90 million passengers a year.
AOT hopes that the collaboration with result in a wealth of information exchange
in the development of AOT's airports, increasing business opportunities in aviation development
not only in enhancing the operational efficiency of airports but also expanding the network of routes
for the benefit of air travel of Thailand and Türkiye. At the same time,
the SAA accord helps promoting good relations between the two countries
and projecting a good image for AOT as a world-class airport operator sustainably.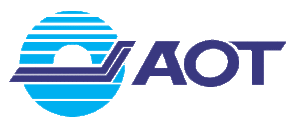 Airports of Thailand Public Company Limited
"AOT Operates The World's Smartest Airports"
Focusing on service quality by emphasizing on safety and balance of revenue generation
~ Foreign Cooperation and Protocol Department
บริษัท ท่าอากาศยานไทย จำกัด มหาชน
ผู้ดำเนินการและจัดการท่าอากาศยานที่ดีระดับโลก
"มุ่งเน้นคุณภาพการให้บริการโดยคำนึงถึงความปลอดภัยและสร้างรายได้อย่างสมดุล"
~ ฝ่ายประสานความร่วมมือและพิธีการต่างประเทศ