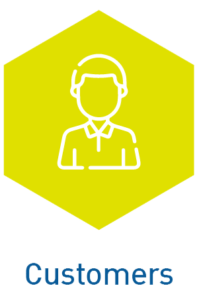 Explanation of the material topic and its boundary
To strive for service excellence, in accordance with international standards, in order to enhance positive passenger impressions at the airport – the Gateway to Thailand - has been one of AOT's operational goals. AOT has been developing consistency in customer relationships for standardization across the board in order to upgrade our services and to improve customer satisfaction for passengers, operators, and airlines while projecting a positive image of our country.
The management approach and its components
AOT gives importance to passenger satisfaction at all airports under our responsibility by designating service quality elevation as one of the strategic objectives according to the revised version of AOT Corporate Plan (Fiscal Years 2017 – 2022) which focuses on the development of infrastructure and facilities to improve the quality of services to meet international standards.
AOT has been enhancing customer satisfaction through analysis of Airport Service TouchPoints by using airport service assessment tools which can be divided into three categories: Level of Service: LoS, Airport Service Quality: ASQ, and Customer Feedback.
Level of Service is a tool for the evaluation of services provided for inbound and outbound passengers by taking into account waiting time and passenger density in areas such as passenger lounges, check-in counters, physical examination and luggage points for outbound passengers, passenger waiting areas. LoS can be divided into 4 levels as follows:

Airport Service Quality : ASQ
AOT has participated in the Airport Service Quality (ASQ) Evaluation Project implemented by Airports Council International (ACI), which is internationally recognized as the only global trade representative of the world's airports. The evaluation focused on passenger satisfaction by using the same global questionnaire for airport services reviews, including ground transportation, check-in, facilities, restaurants, restrooms, hygiene, and the atmosphere inside passenger terminals.
Airport Service Quality : ASQ
AOT has gathered statistics of complaints, suggestions, and feedback on AOT services for analysis and development by taking into account theories, research findings, best practices, and operations of the world's top airports. Currently, AOT has been monitoring and analyzing customer feedback on routes taken by passengers through 17 service TouchPoints for evaluation and elevation of service quality every month.
Customer Satisfaction Survey
Besides collecting data from the passenger group, AOT has conducted Satisfaction Surveys to figure out the needs of all groups of customers, including business operators inside airports and airlines through in-depth interviews conducted by internal agencies and Net Promoter Score (NPS) through questionnaires using Face-to-Face technique for the sample surveys. However, due to the COVID-10 pandemic, the data have been collected through online channels to be incorporated into strategic planning and service quality development, including operational efficiency improvement, for consistent development and customer satisfaction.
Complaint-Filing and Suggestion Channels
AOT has established various complaint-filing and suggestion channels to cater to each customer group. The screened-in complaints will be passed to related agencies for improvement and revision in accordance with complaint handling procedures and will be recorded in the statistical report, including the complaint resolution which will be presented to the top executives of each airport every month and every quarter and will be communicated to the Corporate Communications Department, the Business Development Department, and the Research and Development Department for Innovation and Service Quality to elevate the quality of services for customers and to enhance competency and to review the compliant handling procedures for the highest efficiency.