AOT Sustainable Development
AOT operates on the basis of social responsibility and sustainable development under the concept of
"being an airport that is a good corporate citizenship and friendly neighbor to the community" (Corporate Citizenship Airport), with an objective of promoting organic sustainable development outwardly through responsible business. conducts, balancing economic, social, and environmental values, and enriching relationships and confidences with domestic and international stakeholders
Sustainable Development Governance Structure
AOT appoints Social Responsibility for the Sustainable Development Committee and Social Responsibility for Sustainable Development Committee (at the airport level) under the supervision of the Good Governance Committee to steer the sustainable development and tasked with following duties and responsibilities:
Sustainable Development Policies
AOT defines sustainable development policies following globally and internationally accepted standards, essentially the United Nations Sustainable Development Goals, Dow Jones Sustainability Index (DJSI), the core subjects of Social Responsibility Standard (ISO 26000) Guidance from the International Organization for Standardization (ISO) and the Stakeholder Engagement Standard (AA1000 SES) for example. These policies consist of six main topics:

Good Corporate Governance
Operate the business through good corporate governance principles and becoming aware of social responsibility following the sustainable development guidances.

Avoid business monopoly, conflict of interests, and misconduct of all kinds.

Responsibility to Customers
and Innovative Development
Foster the implementation of technology and innovation to deliver customer experiences that are beyond expectation.

Human Rights and Employee Benefits
Respect human rights and emphasize on employee treatments in both equality and occupational health, and support social contribution.
Community Development Participation
Balance the business benefits with the community and environmental impact and promote the joint value delivery between AOT and the community.

Information Disclosure Guidances'
Disclose operating performance and information to the public on the basis of transparency and reliability.
Sustainable Development Strategies
AOT specifies the sustainable development strategies to strive towards being an airport that is a good corporate citizenship and friendly neighbor to the community (Corporate Citizenship Airport). Three major strategies are:
Strategy 1
Sustainability Management
Strategy 2
Stakeholder Engagement
Strategy 3
Sustainability Initiatives
Being airports that are excellent in sustainability management
Being airports that are recognized by stakeholders and participate in Sustainable Development.
Being airports that generate values for the community and the society.
To enhance the sustainability assessment results and organization quality, including the integration of sustainable development and business practices.
To promote recognition and elevate impact mitigation plans to cover all stakeholders, be it community or society level.
To create shared values of business, community and society as well as integrate and drive sustainable business
AOT Sustainable Development Framework
AOT operates on social responsibility for sustainable development in accordance with the Sustainable Development Operations Framework. It was developed from an analysis of impacts, risks, opportunities, and key sustainability issues on the organization. covering economic, social, and environmental dimensions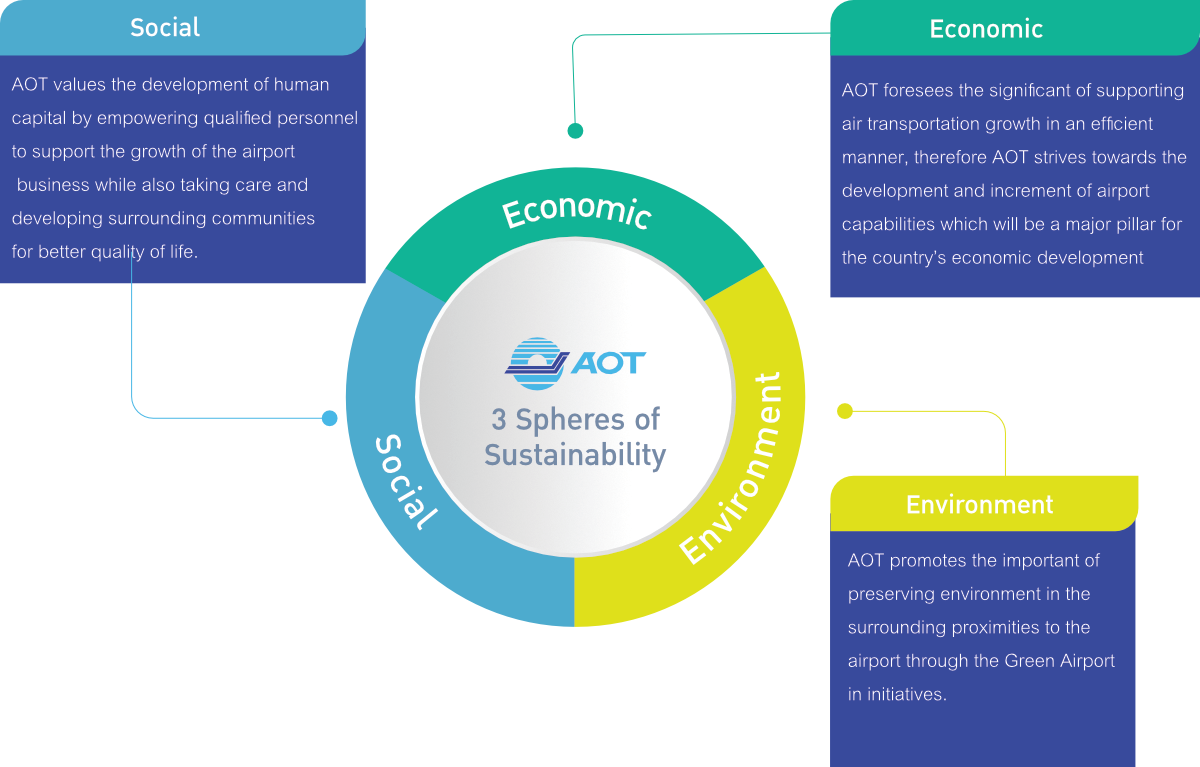 Sustainability Development Roadmap
AOT has formulated a plan for sustainable development in the period of 2015 - 2023 for concrete implementation. with details as follows:
Corporate Citizenship Airport
Promote right awareness for sustainability in the airport business
Develop the sustainability development plan
Build innovative changes in pilot departments and promote stakeholder's participation
Operate an organization-wide sustainability development and conduct assessment to design the sustainability development management plan.
Discover right sustainability development mechanisms to create transformation.
Protect the surrounding community and promote the ability to formulate social activities.
Delivering Sustainable Value in Airport Business for Sustainable Growth
AOT Sustainable Development Goals
To support the achievement of 17 core principles of the United Nations Sustainable Development Goals (SDGs) which has been set as a guide for government, private, and not-for-profit organizations to align their corporate objectives with sustainability development goals, AOT has realized. the importance and synergy of collaboration from all parts by connecting strategies in the social responsibility management for sustainability development under the Sustainable Development Master Plan with sustainable development goals (SDGs) and discloses them through the details of relevant implementation on each goal to the organization's Annual Sustainable. Development Report.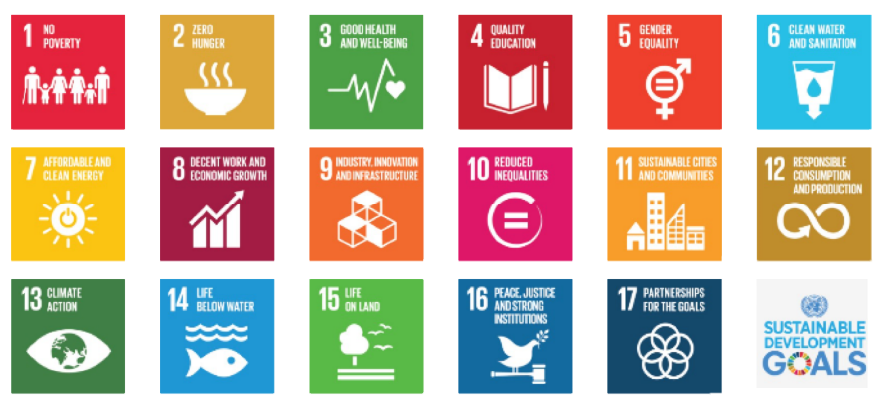 Last Updated: June, 28 2022