Participation with Community and Society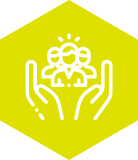 Airport operations can affect surrounding community, in terms of quality of life, economy and society that may change. With the awareness of these issues, AOT aims to create value with community and society which is considered as an important mission according to the concept of being an airport that is a good citizen of the society and a good neighbor of the community or "Corporate Citizenship Airport" Concept, as a guideline for operations to achieve social acceptance (Social License to Operate) with operational results in concrete manner through universal measurement methods such as Social Return On Investment (SROI), as well as building confidence in the community that they can grow together with AOT in a stable and supportive manners.
AOT has assigned the Corporate Social Responsibilities Department and CSR-related units in every airport to be responsible for the operation to build participation with the community according to Strategy 2 "Stakeholder Engagement", and Strategy 3 "Sustainability Initiatives", under AOT's extended Sustainable Development Master Plan for fiscal years 2020 - 2021, which is consistent with Strategy 1.3, Sustainable Development under Airport Strategic Positioning Strategy of AOT's Revised Corporate Plan (Fiscal Years 2017 - 2022) ).
Strategy 2: Stakeholder Engagement
Under the Sustainable Development Master Plan, there are 4 sub-strategies, as follows: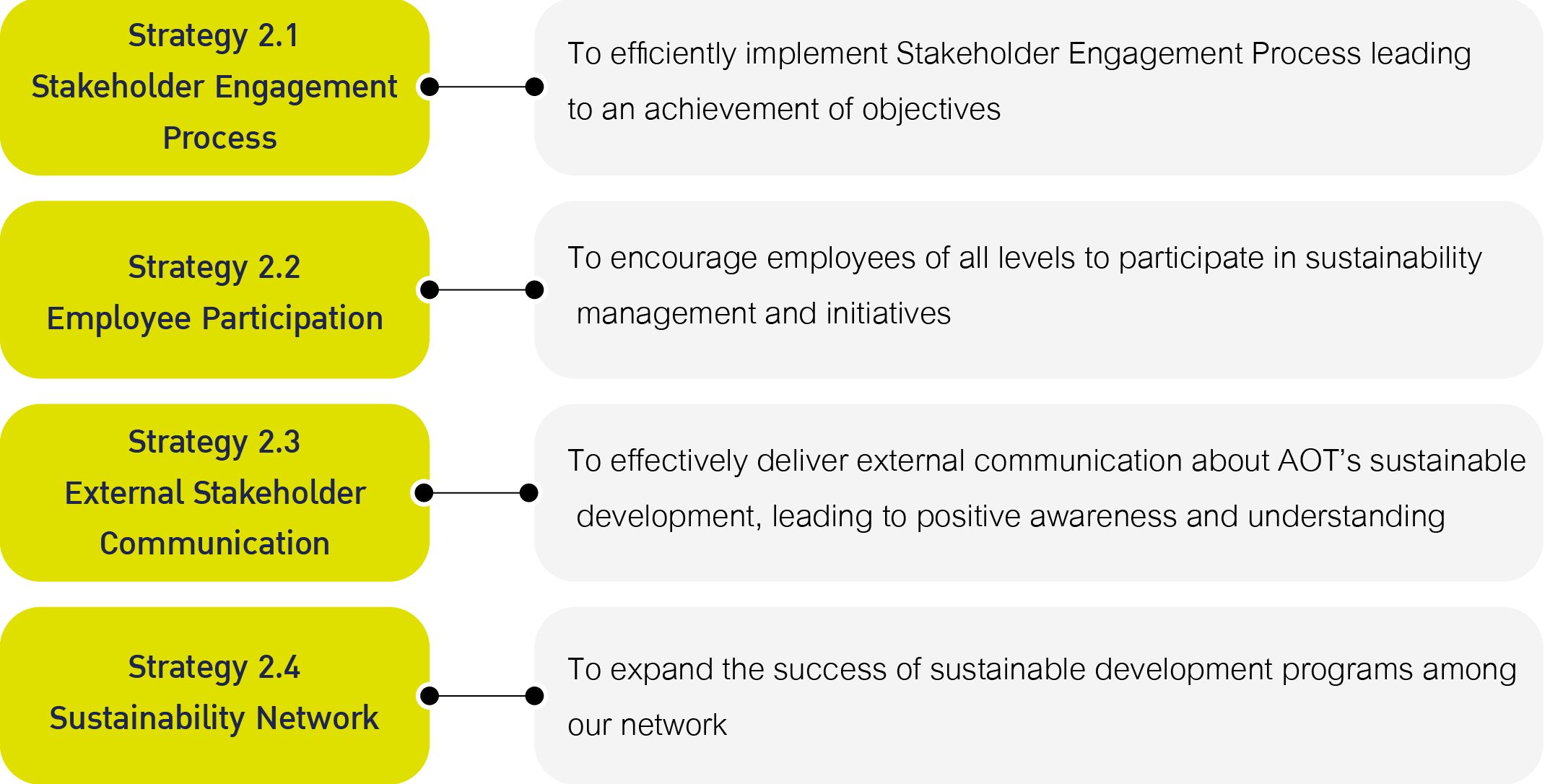 Promoting the establishment of Stakeholder Engagement Process at the organizational level and the department level, indicating the disengagement risk, and establishing data synchronizing obtained from each segment to be used as the input data for further formulation of strategy, both at the organizational level and the department level.

Organizing the Change Agent Development Project to encourage leaders to communicate and create understanding about the importance of sustainable development throughout the organization.
AOT's stakeholder engagement is in accordance with the International Framework (AA 1000 Stakeholder Engagement Standard: AA 1000 SES), covering the planning, preparation, implementation, and review process, including the communication guidelines with the external stakeholders for development of the aforesaid processes and continual communications.
Strategy 3: Sustainability Initiatives
Under the Sustainable Development Master Plan, there are 2 sub-strategies, as follows:


Organizing workshops to analyze the objectives and indicators of Airport Strategic Positioning in order to design social activities for sustainable development at each airport.
Organizing workshops to determine the objectives and indicators of the "CSR Signature" activities in order to design social activities for sustainable development of AOT.

Organizing skills development project on the Social Return on Investment (SROI) for responsible units at the Head Office and airports that deal with sustainable development activities.
Framework for delivering AOT's social values
AOT operates its business according to "Corporate Citizenship Airport" concept which defines a framework in 4 aspects that are the core for determining and implementing social activities at the organizational and the airport levels, as well as supporting the following goals of sustainable development: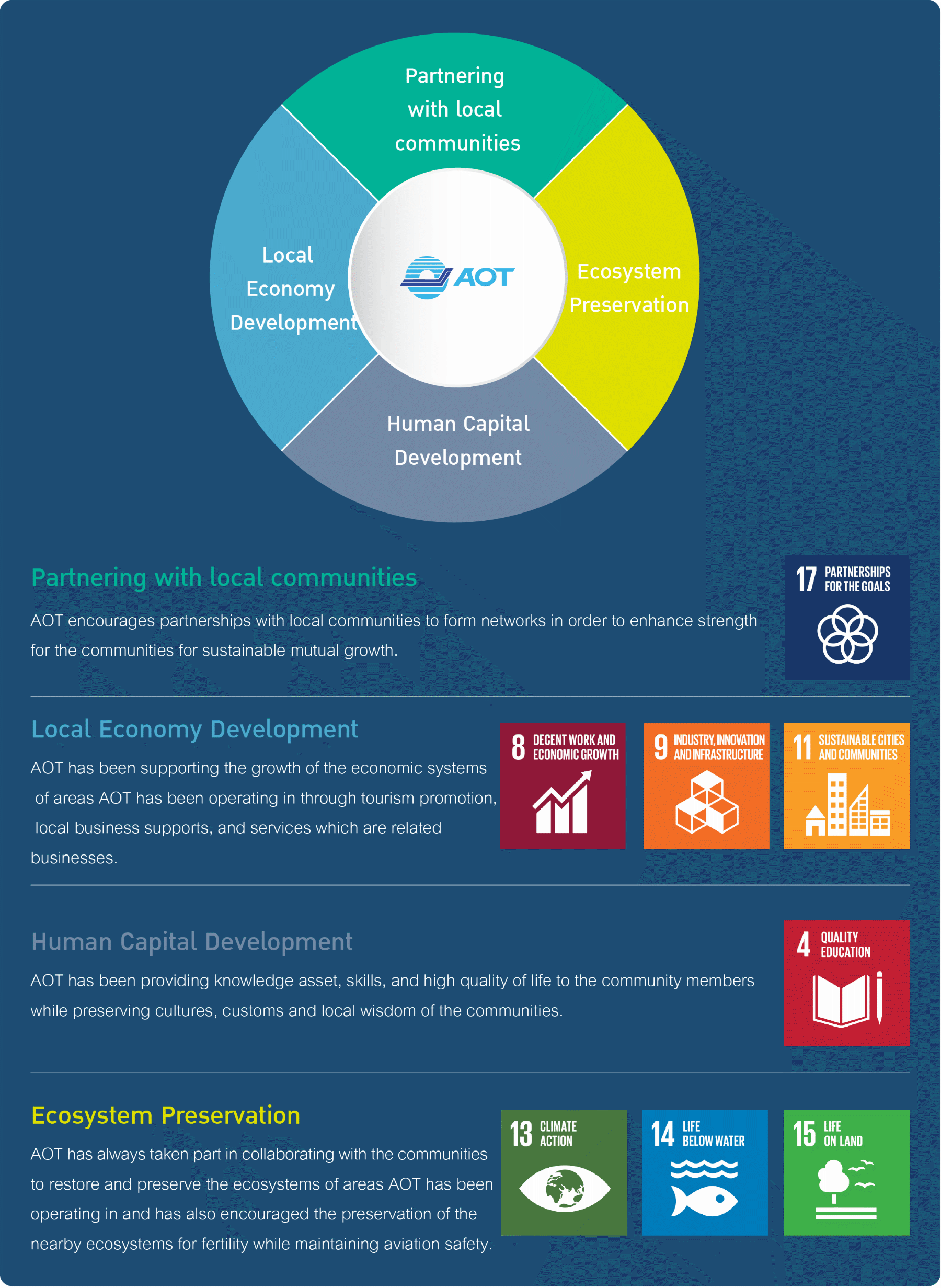 Stakeholders Database Arrangement at Community Level
AOT has arranged community-level stakeholders' database for all 6 airports to identify relevant stakeholder groups, to analyze the expectations and to assess participation guidelines to respond to the needs of relevant stakeholders at the community level precisely. At present, AOT applies 3 criteria to determine the important community areas which are the criteria for determining the Environment Impact Assessment (EIA), the Airport Emergency Plan and the Noise Contour. Moreover, the database considers the vulnerable groups of people such as the youth, the elderly, and foreign workers and also be reviewed regularly according to the changing context.
Sustainable Development Activities at Organizational Level
AOT's sustainable development activities at organizational level are organized to reflect the unified corporate image under the concept of learning airport which consists of:
Study trip project at the airport
The study trip project at the airport increases the opportunity for agencies and educational institutions to visit and learn about airport management such as safety management or public transport management within the airport to create knowledge, understanding and exchange of ideas and also attract personnel to work with AOT in the future.
The AOT Volunteer Project is the activity to deliver environmental and safety knowledge to the communities surrounding the airport. The staff of AOT are the lecturers to provide knowledge and training on basic firefighting and the sense of care for the environment of young people. In addition to the delivery of knowledge, it also demonstrates an expertise in responsive safety standards to the emergency situation and the attention paid to the environment of AOT.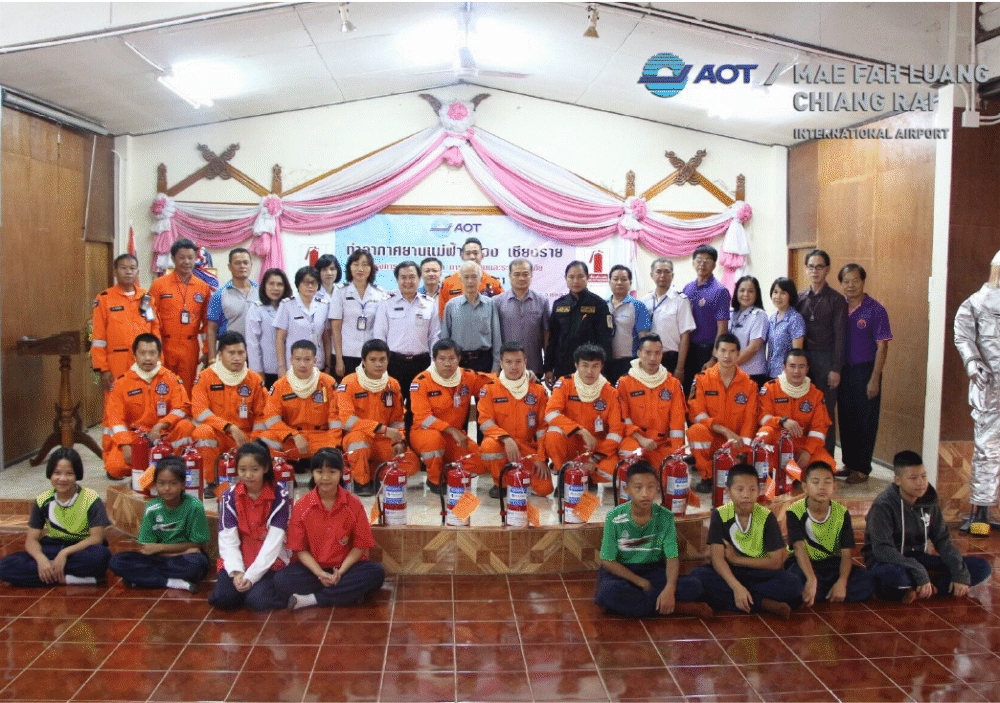 Outstanding Sustainable Development Activities at the Airport Level
AOT operates social activities covering all 6 airports and Head Office (100%) by responding to community needs through stakeholder engagement process which is sourced from the community-level stakeholder database. In the past year AOT has carried out the outstanding sustainable development activities, as follows:
"Supporting Patient Health Care - Groups at Risk of COVID-19" Project
Suvarnabhumi Airport donated drinking water to Samut Prakan Hospital, Nai Khlong Bang Pla Kot Subdistrict Administrative Organization Samut Prakan Province, Lam Phutsa Community, Nurun Phatthana Community, and Zen Dai Nonprofit Organization Bangkok to use in the quarantine mission for the people at risk. In addition, Suvarnabhumi Airport also donated 1,800 bags of survival supplies to the Internal Security Operations Command (ISOC), Bang Phli District, Bang Sao Thong District, and Lat Krabang District Office to distribute to people in the communities around Suvarnabhumi Airport.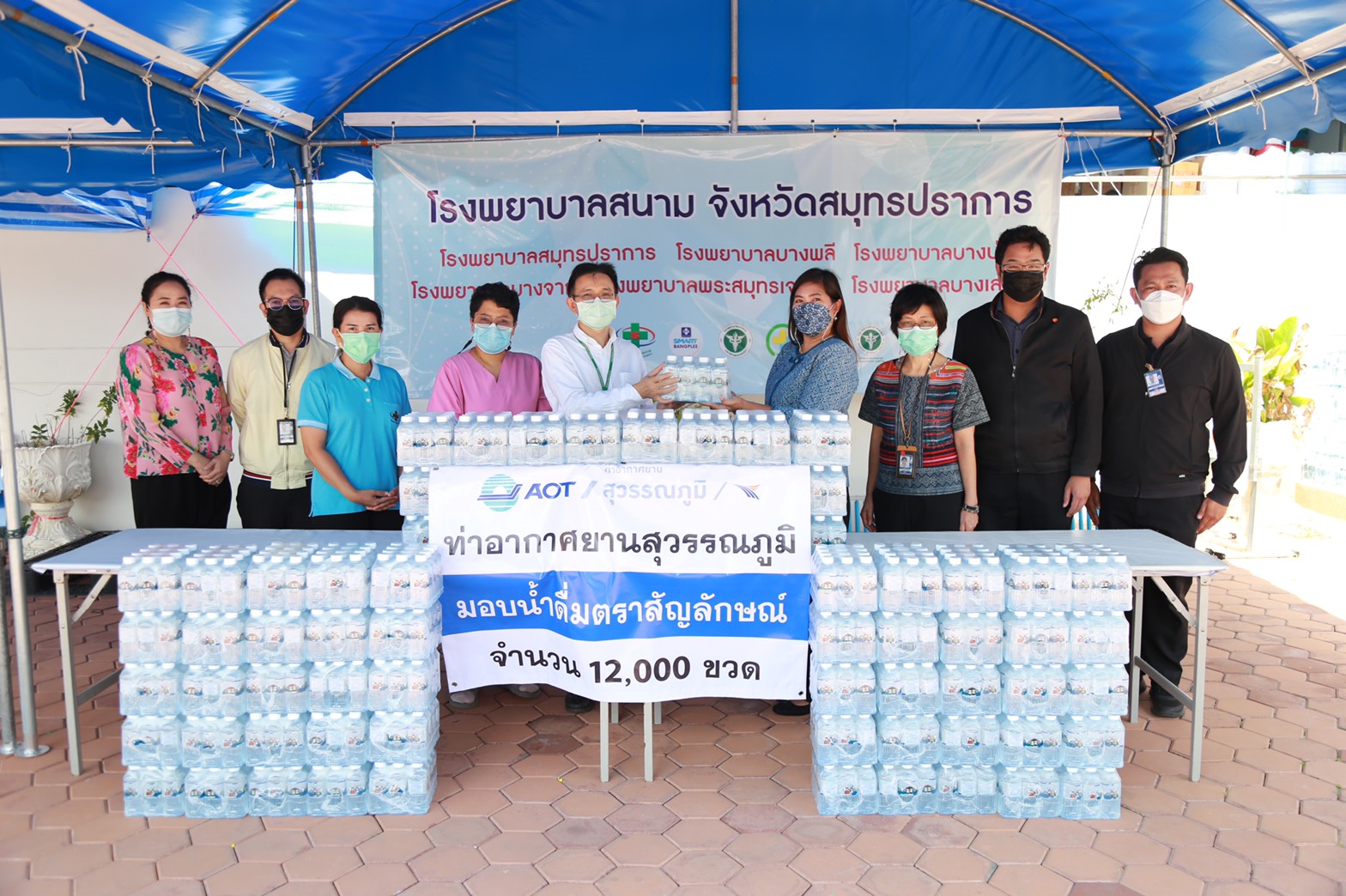 "Disaster Relief Mission" Project
According to the fire incident at a plastic pellet plant in the area of Bang Phli District, Samut Prakan Province, Suvarnabhumi Airport has supported the disaster relief mission by arranging the area nearby the fire station (West Station in the airside as landing space for fire extinguishing helicopters of the Department of Disaster Prevention and Mitigation. And it also allocated the free parking spaces for the evacuees from the disaster and provided drinking water to people in collective center.
"Community Products Support" Project
Due to the Coronavirus (Covid-19) pandemic situation, AOT has adjusted the format of the Suvarnabhumi Fair from selling the community products in the area of Suvarnabhumi Airport to be sold in AOT Market Place instead, an online sales platform for AOT employees. The aim is to increase income for communities that suffer from the decrease in sales resulted from the aforementioned situation. The products for sale are sun dried gouramies fish from Bang Pla Subdistrict, Bang Phli District, Coconut-Leaf Broom from Racha Thewa Subdistrict, Bang Phli District, vegetable salads and flowers from Minburi District, Bangkok and etc.
"Community-based Tourism Promotion" Project at Ban Bang Kaei Community, Bang Pla Subdistrict, Bang Phli District
The project is to promote and develop community-based tourism in Ban Bang Kaei located nearby Suvarnabhumi Airport, to be ready for waterway tourism management with safety standards, environmental concern, knowledge enhancement and readiness for community-based tourism management. It will benefit simultaneously and sustainably in safety, community economy and ecosystems.
Organizing the activities of Cardiopulmonary Resuscitation (CPR) practice and Basic Water Rescue and Life Saving Skills for members of Ban Bang Kaei community, travel service providers and village security team.
Providing manuals on water safety standards and water safety equipment.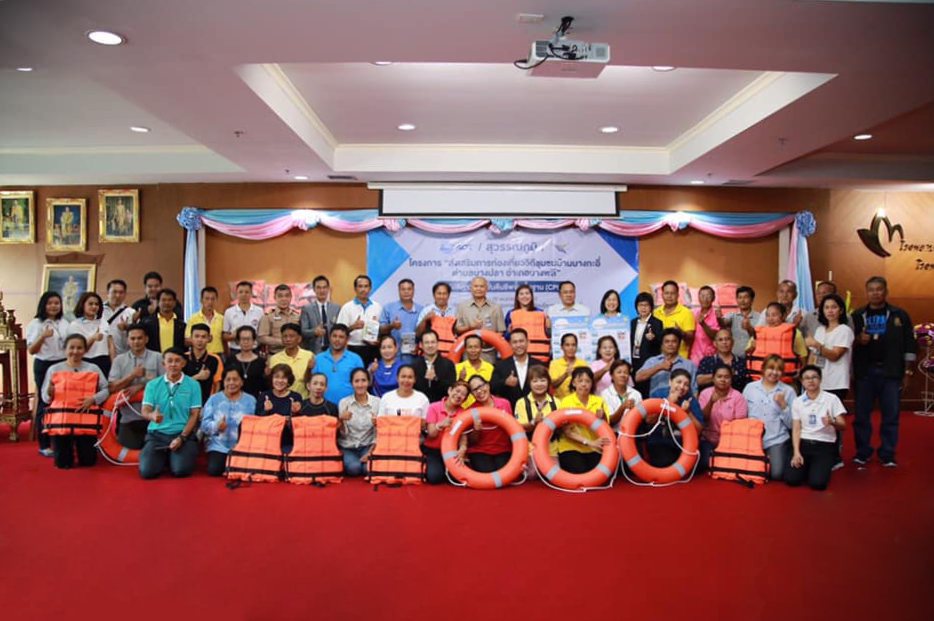 Don Mueang International Airport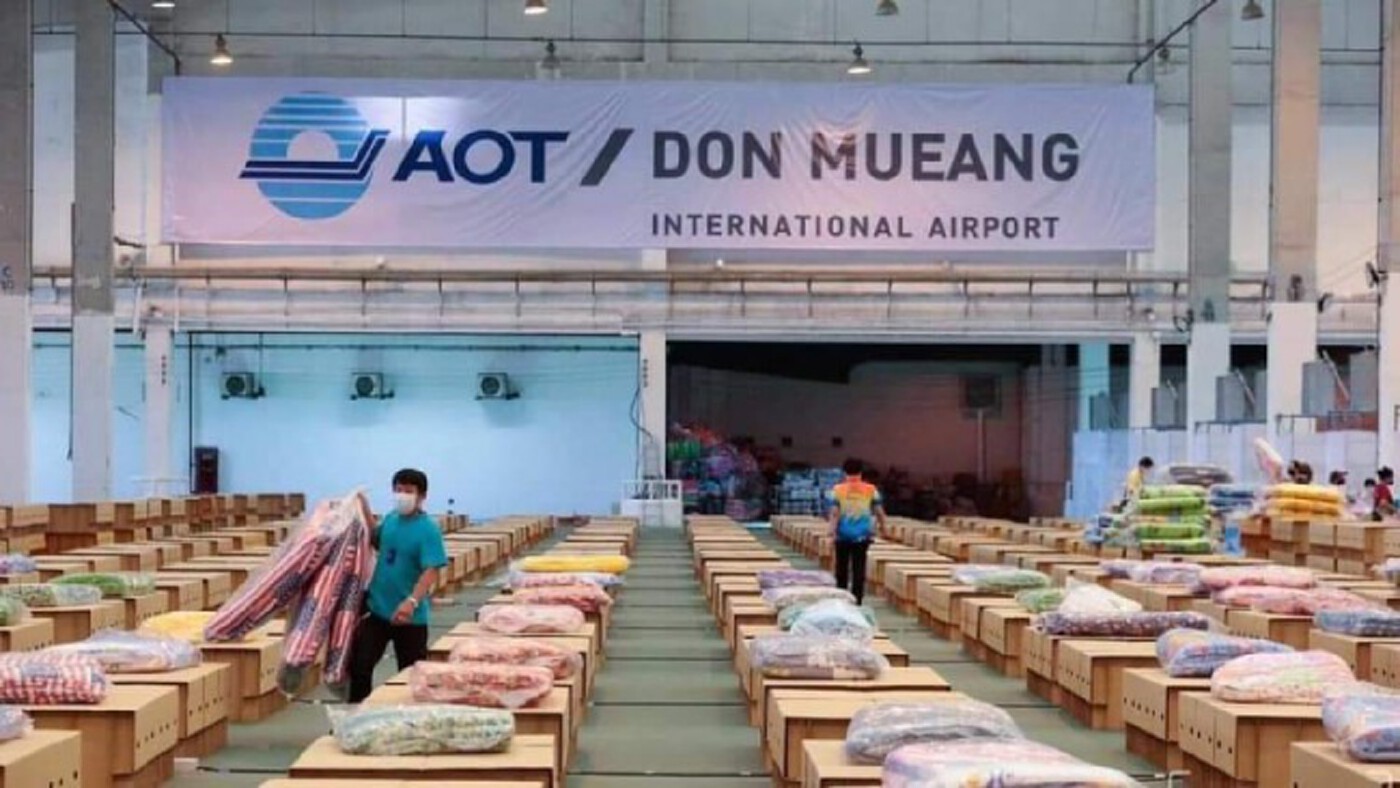 "Third Field Hospital" Project
Don Mueang International Airport provided a building and spaces to support the establishment of the 3rd "Palang Pandin" Field Hospital, named "Tai Rom Phra Baramee Field Hospital" at the 4th cargo outbound warehouse with an aim to alleviate the suffering of those infected with COVID-19 from the ongoing pandemic situation since 2019 to present. Due to the large number of patients awaiting to receive treatment, especially in the Bangkok area, therefore, it is necessary to provide suitable area to set up the temporary field hospital to support those infected with COVID-19 with mild symptoms.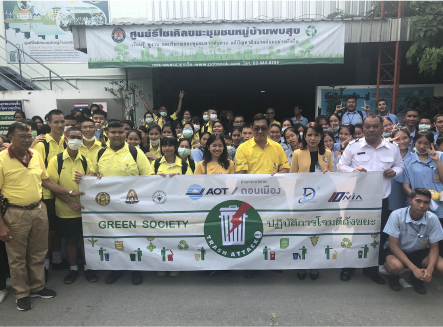 "Green Society Trash Attack: EP. 1"
"The 1st Trash Attack Operation 2019"
AOT is aware of the importance of waste problems affecting the communities in terms of health problems, economy, and environment. Therefore, there has been cooperation with various networks to organize such activities to encourage consciousness in children and young people and organize a creative contest on waste management by innovations to help reduce environmental impact.
• Organizing Roadshow activities and study tours for nearby schools.
• Arranging Project contests and expand the prototype innovation in learning the guidelines for waste management.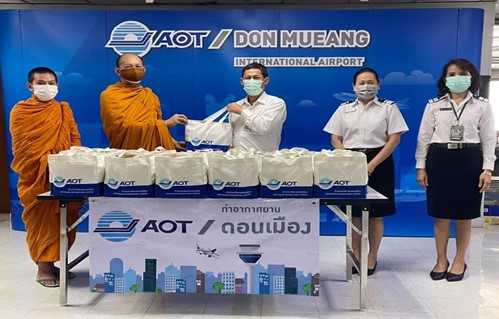 Survival Bags Offering Project
Don Mueang International Airport donated survival bags containing necessary consumer items to Wat Weru Vanaram (Phai Khiao), Don Mueang District at Don Mueang International Airport to help and alleviate basic problems of people in community areas who have suffered from the impact of COVID-19 outbreak and encountered. livelihood challenges.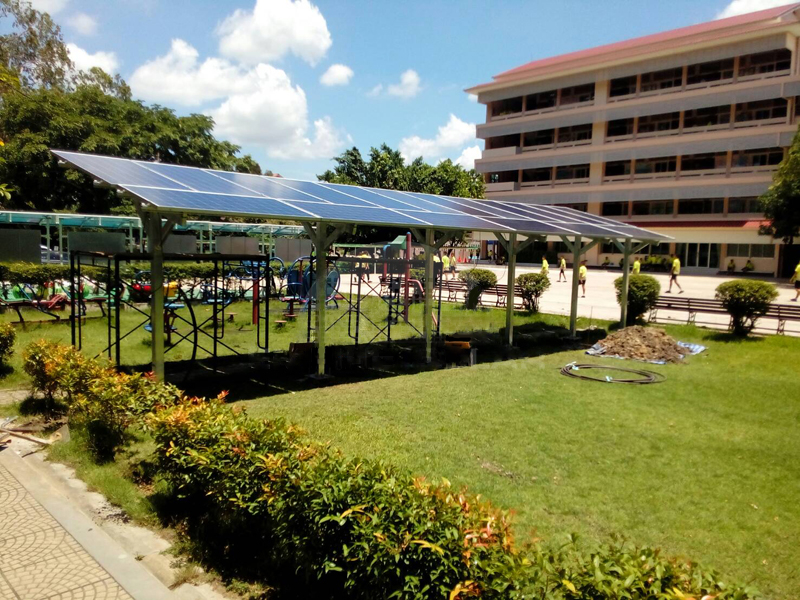 Clean Energy Learning Promotion Project
AOT promoted clean energy learning for Bumrungraviwan Wittaya School, located in the surrounding area of Don Mueang International Airport by donating solar panels to the school in order to integrate knowledge with STEM (STEM: Science, Technology, Engineering, Mathematics). At present, this school is a role model in organizing learning through an exhibition on clean energy for other schools in Don Mueang area.
Donating solar power generation set, solar-powered aerator and automatic watering system with solar energy.
Organizing activities to educate on clean energy.
Chiang Mai International Airport
"Youth Learning at Chiang Mai International Airport" Project
It is an activity that provides opportunities for young people in primary and secondary school to learn on how the safety and security standard are operated within the airport to spark interest in aviation-related careers. The activity received cooperation from both government agencies and airlines.
Training on fire-fighting methods
Providing knowledge on airport security standards
Providing knowledge on aircraft safety systems
"Volunteer Project, we do good deeds from the heart"
Chiang Mai International Airport supported air compressors, model BEAUER KOMPRESSOR and model Drager Mariner320, for the use in fire suppression mission of commercial building where chemicals and agricultural equipment are sold, in Chom Thong District, Chiang Mai Province. Apart from the aforementioned support, Chiang Mai International Airport's fire fighters also voluntarily joined in fire suppression by using their constant-trained knowledge and experiences.
Hat Yai International Airport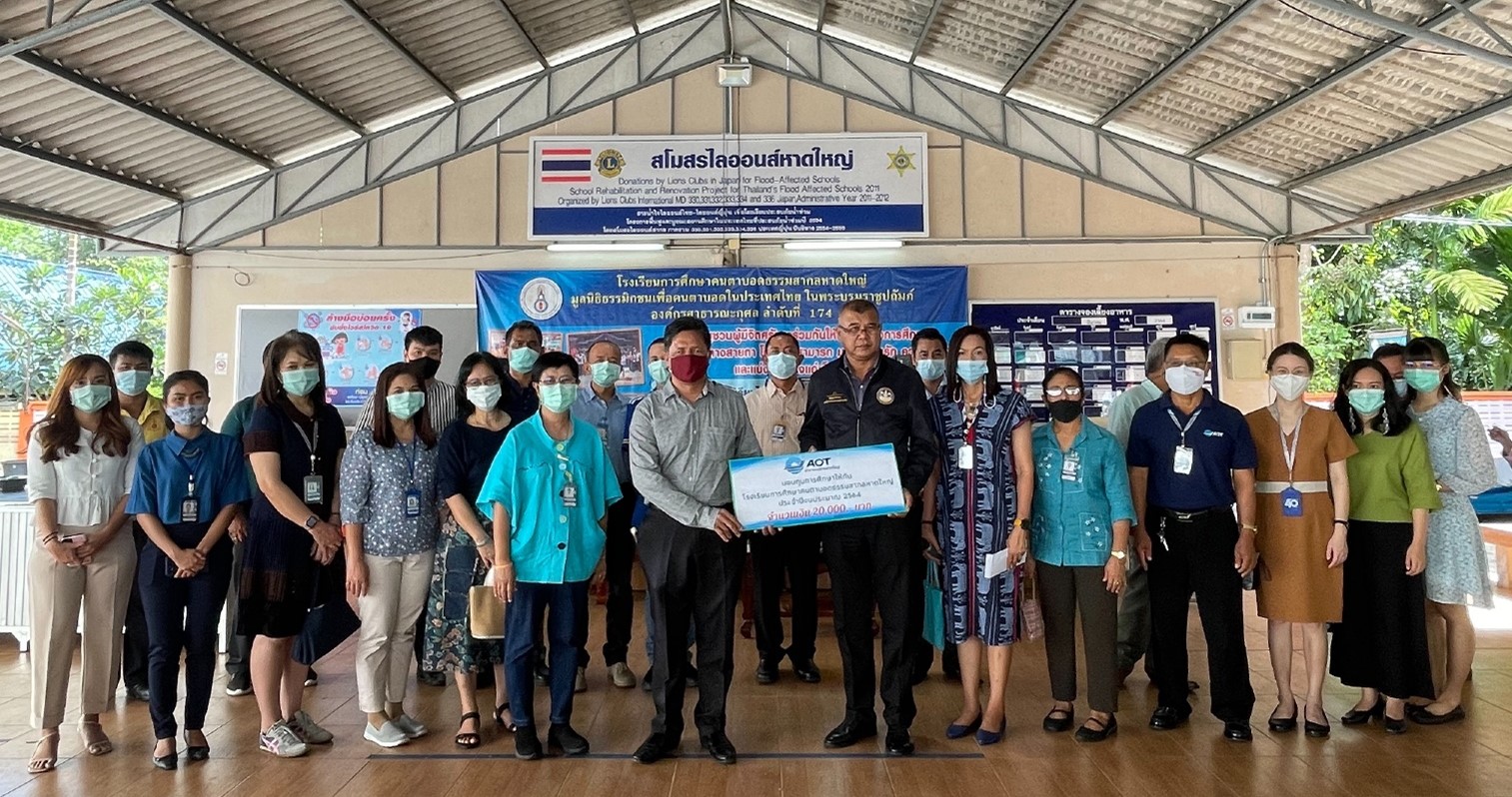 "Awarding Scholarships to Thammasakon Hatyai School for the Blind Fiscal Year 2021" Project
Hat Yai International Airport organized the activity to provide scholarship to Hat Yai International School of Education for the Blind to promote education for the society and boost morale for underprivileged students. Hat Yai International Airport's executives and employees participated in activity taking place at Thammasakon Hatyai School for the Blind.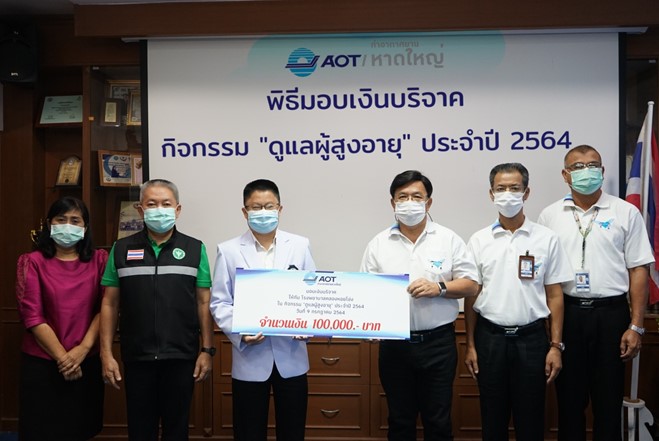 "Elderly Care" Project of the Fiscal Year 2021
Hat Yai International Airport made a donation for the "Elderly Care" Activity of the Fiscal Year 2021 to Khlong Hoi Khong Hospital, Khlong Hoi Khong District, Songkhla Province in accordance with AOT's policy on the business operation under the "Corporate Citizenship Airport" concept
"Promoting Community Ecosystems for Sustainable Development Khlong Hoi Khong District" Project
Khlong Hoi Khong District, Songkhla Province, is a community ecotourist attraction with high potential, so AOT participated in promoting the community to be a tourist destination that can manage itself sustainably.
Promoting the tourist attraction to be widely known
Preparing the community to be able to manage tourism by themselves
Training the tour guides to provide knowledge on local arts and culture
Phuket International Airport
The "HKT Loves Coral" Project
The environmental problems of coastal tourist destinations have been regarded as urgent issues which AOT has been trying to solve by using the strengths of Phuket Airport supported by a team of diving experts accredited by a global certification and a network of marine and coastal resource management specialists.
Building coral nursery plots and collecting undersea waste.
Organizing HKT Little Conservationist Activity to promote learning and collecting litter on the beach.
Training local community members to dive.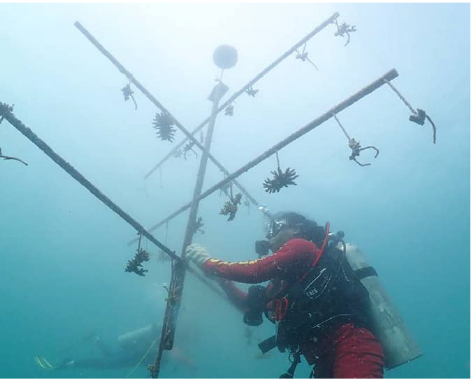 Mae Fah Luang Chiang Rai Airport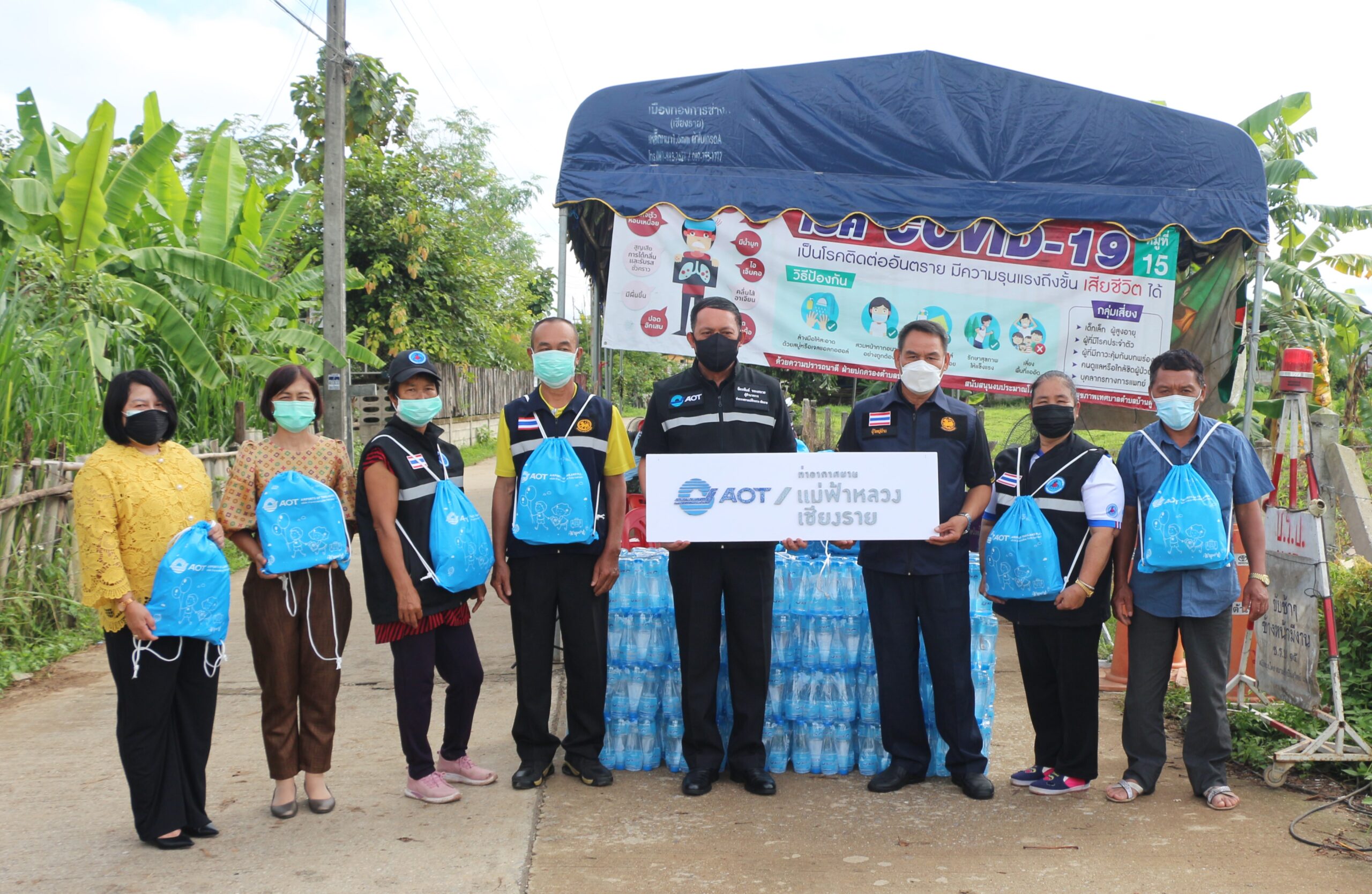 Drinking Water Distribution to the Community Project
Mae Fah Luang-Chiang Rai International Airport took part in supporting community activities around the airport and other communities in Chiang Rai Province by providing water bottles for the use in various community activities such as drinking water for officers in the mission to extinguish forest fires and smoke in Ban Du Subdistrict, Tha Sai Subdistrict, Chiang Rai Province, and also distributed bottled water to people in villages of Chiang Rai Province who were affected by the pandemic situation of COVID-19.
"Return Happiness to Passengers Through Lanna Cultural Performances" Project
The activity is to create cultural identity while giving good impression to passengers and tourists through musical and Lanna cultural performances by the elderly and the youth in many nearby areas. The aim is to generate income for the community and promote good relationships with people in the community.
Organizing Lanna cultural performance area for the youth and the elderly
Promoting community network to be strong and supportive to each other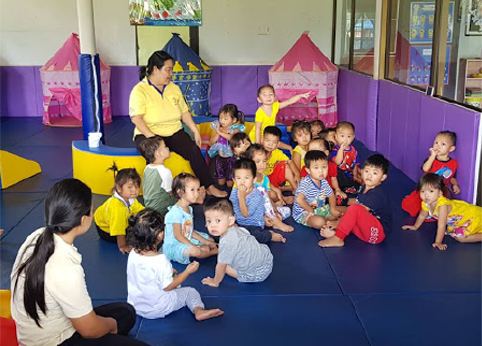 "Area Improvement and Procurement of Equipment to Enhance Early Childhood Development" Project
AOT cares about the stakeholders in early childhood development which helps increase the efficiency in improving the quality of life of the society along with creating economic and social equality. The activity also contributes to creating the Human Capital for the country and to give back to the community and society for sustainable growth together.
Building a room for promoting the early childhood development at Ban Pang Lao Child Development Center
Providing equipment for promoting the development on various skills and kits for child development assessment
AOT's social support activities
AOT has been carrying out social support activities in various formats including Cash Contributions, Volunteering Time, In-Kind Giving, and Management Overheads. The proportion of the project value can be shown as 3 categories: Charitable Donations, Community Investments, and Commercial Initiatives, which have been annually revealed and published in the Sustainable Development Report.

Social Return on Investment (SROI) Measurement
AOT evaluates the performance of social activities through listening to community opinions from various visits and in the form of Social Return on Investment (SROI) analysis, which can be used to review the effectiveness of the activities, to improve strategy and operational process and to make decision to invest in expanding those activities in the future. Such results can also be used to communicate with stakeholders concretely and universally.
| Project | Social Return on Investmentน |
| --- | --- |
| "HKT Loves Coral" | 1 : 7.46 |
| "Generating Electricity from Solar Energy in Bamrungraviwan Wittaya School" | 1 : 1.19 |
| "Area improvement and Procurement of Equipment to Promote Early Childhood Development" | 1: 1.07 |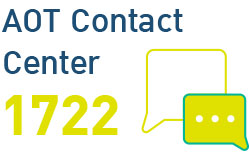 Environmental Impact Mitigation Center at Suvarnabhumi Airport
Telephone: (66)2535 1192 and (66)2132 9088
8.00 – 17.00 hrs., every day except public holidays
Corporate Communications Department E-mail: aotpr@airportthai.co.th
or www.airportthai.co.th in the section "Contact and Whistleblower"
Last Updated: May 18, 2022