Partnering with local communities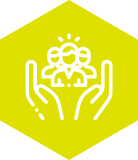 Explanation of the material topic and its boundary
Airport operations can cause impacts on the surrounding communities which may affect the quality of life regarding economic and social change. In light of such concerns, AOT is always committed to collaborating with the surrounding communities and society to carry out a mission under the concept "Corporate Citizenship Airport" - our operational guidelines to gain social acceptance or our Social License to Operate for tangible operational results certified by international standards, such as Social Return On Investment (SROI), while building trust in the communities for collaborative growth with stability for our mutual benefit.
The management approach and its components
AOT has assigned the Social Affairs Department to cooperate with the Corporate Social Responsibility Division of every airport to be responsible for the collaboration with communities in line with Strategy 2: Stakeholder Engagement and Strategy 3: Sustainability Initiatives under the extended version of AOT Sustainable Development Master Plan (Fiscal Years 2020 – 2021) in line with Strategy 1.3 Sustainable Development under Airport Strategic Positioning in the revised version of AOT Corporate Plan (Fiscal Years 2017 – 2022).
Strategy 2: Stakeholder Engagement
under the Sustainable Development Master Plan which comprises 4 sub-strategies: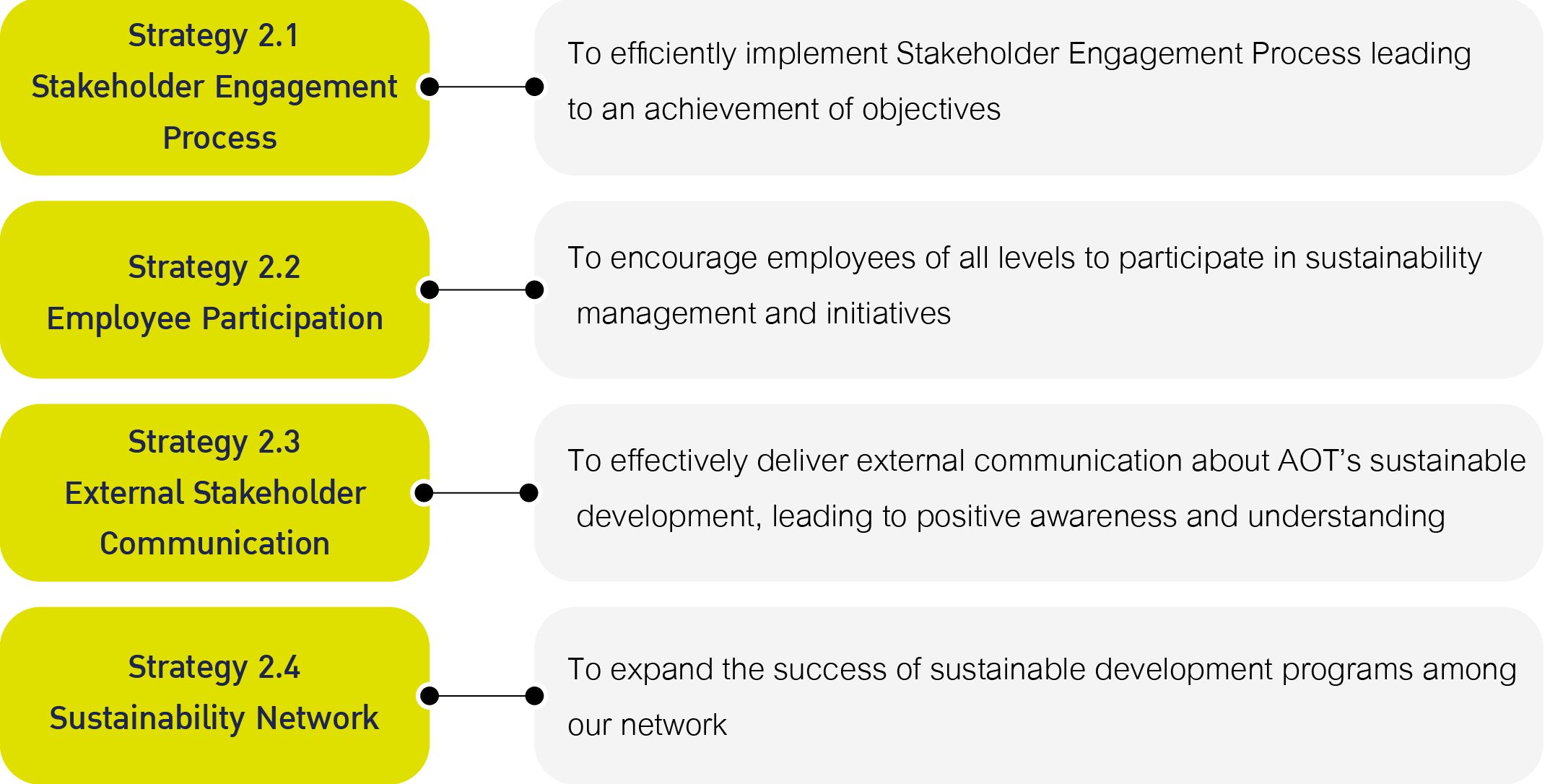 Promotion of establishing a process for connecting stakeholders at the corporate and departmental level. Identification of non-correlated risks. And the creation of date connections obtained from each work link to serves as input. For formulating strategies at both the organizational level and the agency level.

Organizing a project to develop the leadership of change Encourage leaders to communicate and create an understanding of the importance of sustainable development throughout the organization.
AOT stakeholder engagement has been conducted in accordance with the AA 1000 Stakeholder Engagement Standard:
AA 1000 SES to cover all processes from planning, preparing, operating, and reviewing as well as communicating with external
stakeholders to ensure the development and engagement of such process in a consistent manner.
Strategy 3: Activities for sustainable development
under the Sustainable Development Master Plan which comprises 2 sub-strategies:


Organizing a workshop to analyze airport strategic objectives and indicators to design social activities for the sustainable development of each airport.
The workshop was set up to set goals and indicators of the "CSR Signature" activity to design social activities for AOT's sustainable development.

Organizing a project to develop skills related to the social rate of return (SROI) of the project for head office and airport agencies; Responsible for the implementation of sustainable development activities.
AOT's Social Value Delivering Framework
AOT has been operating under the concept "Corporate Citizenship Airport" which can be described as 4 social value delivering frameworks to specify and carry out social activities at the corporate level and the airport level to achieve those various sustainable development goals as follows: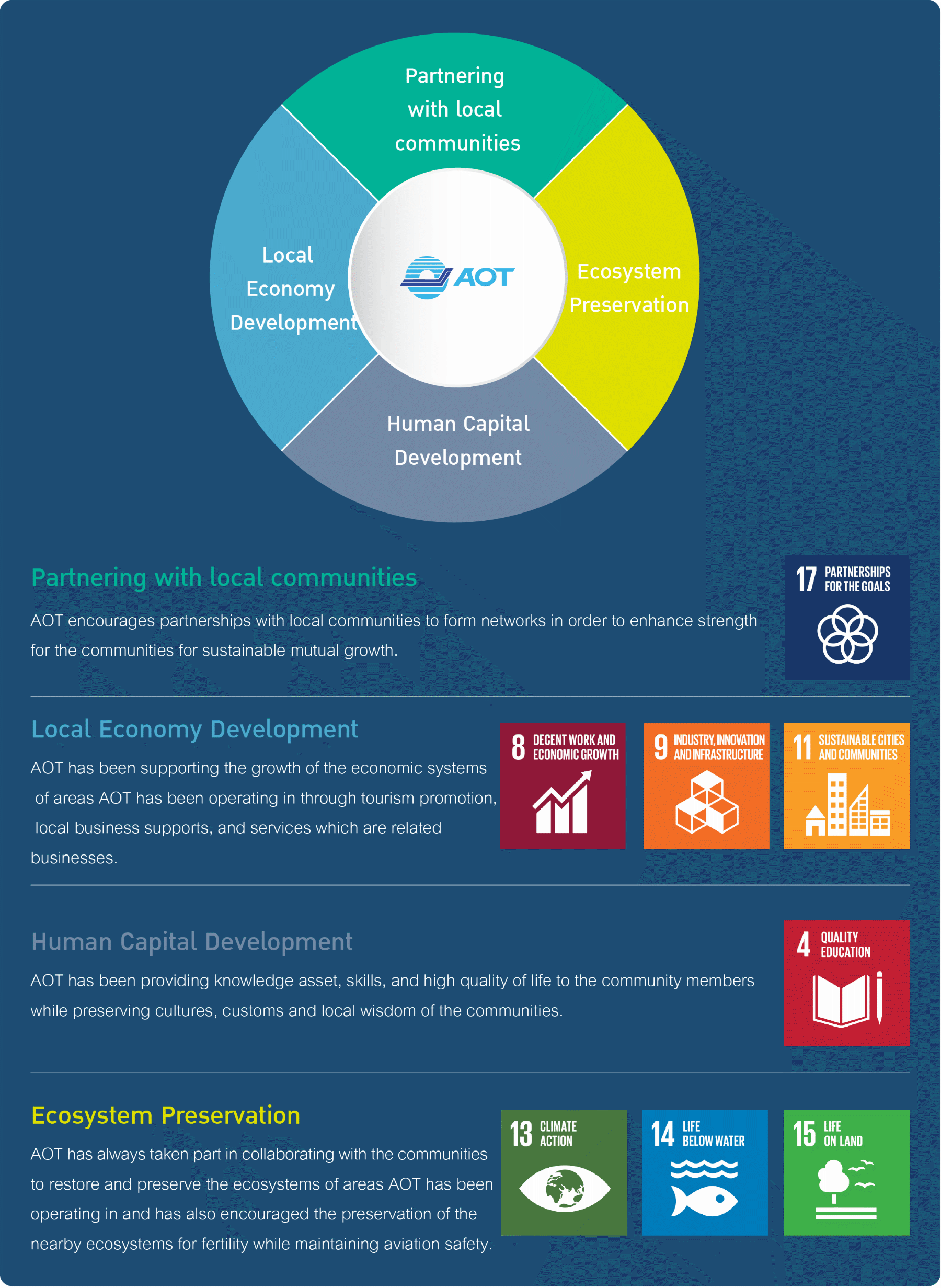 Setting up stakeholder database at community level
AOT has set up a stakeholder database at the community level in all of our six airports to identify those related groups of stakeholders in order to analyze expectations and partnership evaluation to precisely answer the needs of those related stakeholders at the community level. Currently, AOT's important community area zoning comprises 3 factors: Environment Impact Assessment: EIA, Airport Emergency Plan, Noise Contour. Moreover, such stakeholder database at the community level also includes concerns from those sensitive groups such as the youth, the elders, foreign workers while reviews are regularly conducted according to the context.
Activities for sustainable development at the corporate level
Activities for sustainable development at the corporate level are conducted by AOT on behalf of the company to reflect the unity of our organization under the concept "Airport of Knowledge" which includes
Field trips at AOT airports
Our open house activities for agencies and educational institutions to provide learnings on airport management, such as safety management, airport public transport traffic management, to provide knowledge and to foster knowledge exchange while attracting top talents to come to join us at AOT in the future.
AOT Volunteer Project is an activity in which AOT employees share environment and safety knowledge with the communities surrounding the airports through various activities such as fire drills, 'Teens Care About Environment'. These activities not only share knowledge but also reflect AOT's expertise in safety and ability to handle emergencies as well as environmental care.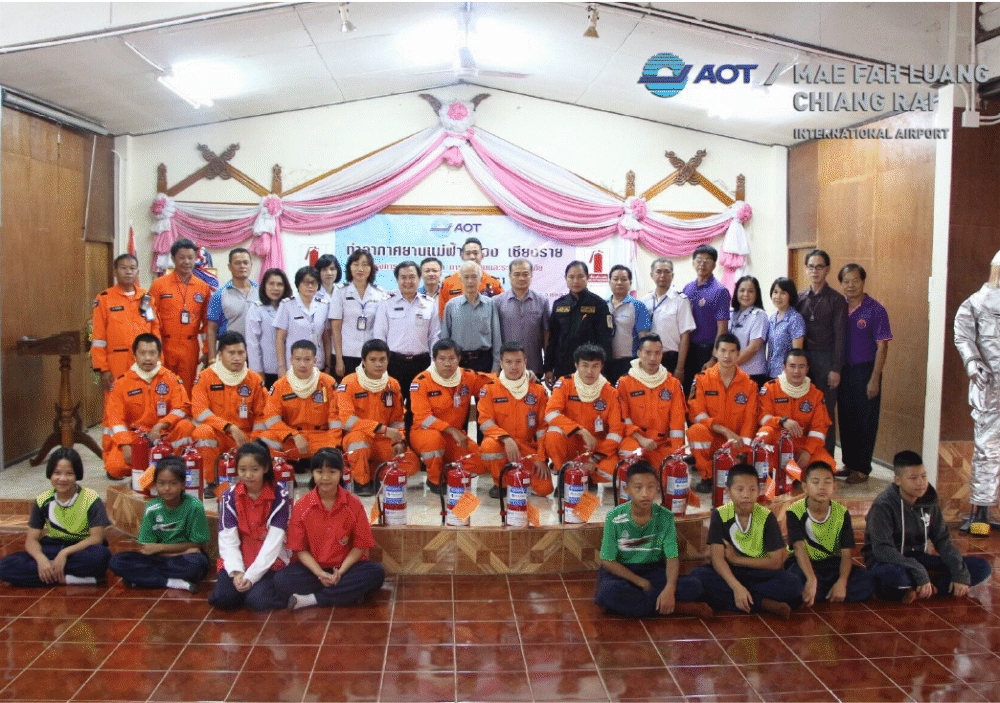 Activities for sustainable development at the airport level
AOT has been conducting social activities in all of our operations areas (100%) to answer the needs of the communities through partnering with stakeholders from the stakeholder database at the community level. Last year AOT conducted outstanding sustainable development activities at each airport and they were:
The Community-Based Tourism in Ban Bang Ka-Ee,
Bang Pla Sub-District, Bang Phli District Promotion Project
The project has been initiated to promote and develop tourism in the Ban Bang Ka-Ee community located near Suvarnabhumi Airport to ensure readiness for nautical tourism, safety, and environmental care and to provide knowledge and readiness in community-based tourism management to benefit all aspects, including safety, community economies, and the ecosystems in a sustainable manner.
• Cardiopulmonary resuscitation (CPR) trainings and basic lifesaving activities were conducted for the community members.
• Maritime and aquatic life support guidelines manuals and marine safety equipment were also provided.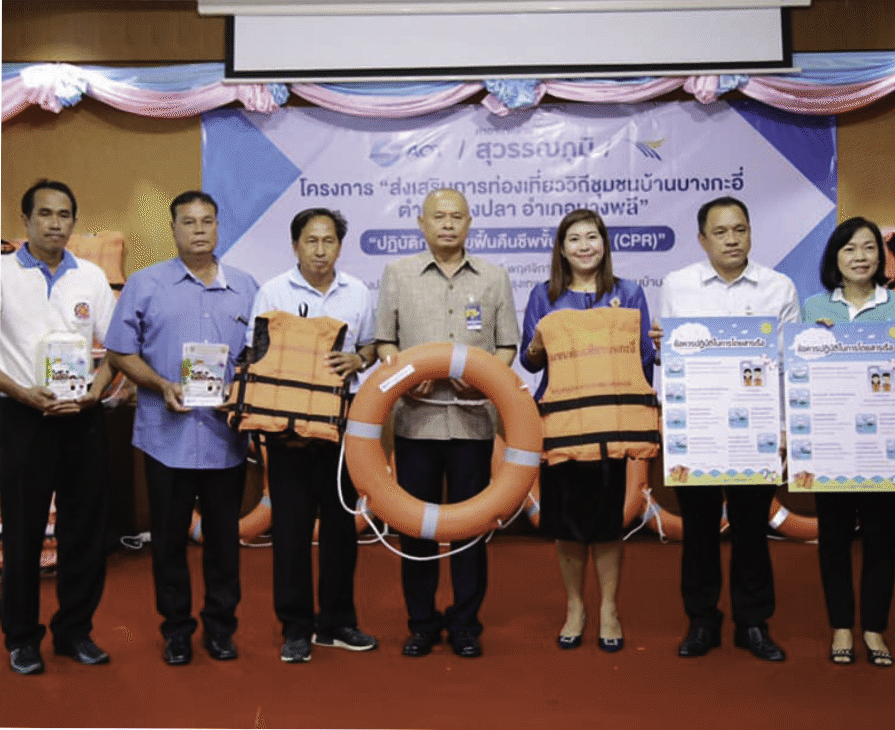 The "Green Society: Trash Attack" Project
AOT takes seriously concerns about trash problems that affect the communities and has thus collaborated with various networks to initiate the project to encourage the youth to be aware of the problems. AOT also ran contests for innovations to get rid of trash problems to lessen the impact on the environment.
• Roadshows and field trips were provided for nearby schools.
• Contests for innovation projects and extensions of innovation prototypes to learn how to manage trash were conducted.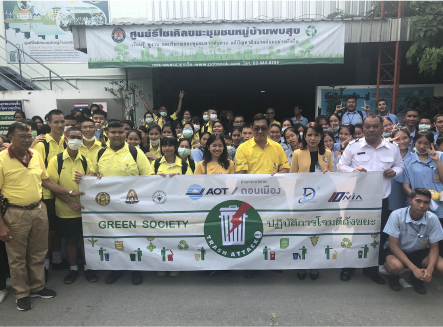 The "Solar Power at Bamrung Rawiwan Witthaya School" Project
To create interest in clean energy among the youth living in areas surrounding the airports at the request of Bamrung Rawiwan Witthaya School, AOT has provided education resources in clean energy for field trips and extensions of innovations in the future.
• Solar cell sets, surface aeration turbine sets, and solar automatic watering system sets were given out.
• Activities on clean energy knowledge were conducted.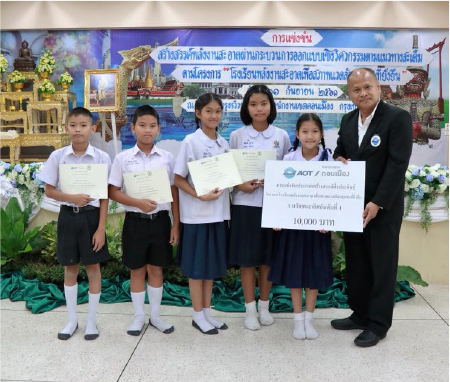 The "Junior Field Trips at Chiang Mai Airport" Project
The project opens opportunities for students at the primary level and the junior high school level to learn airport operations and its safety and security procedures to create interest in professions related to aviation. The project has been receiving cooperation from state agencies and airlines at the airport.
• Fire drills were conducted.
• Airport security trainings were provided.
• Airport safety trainings were provided.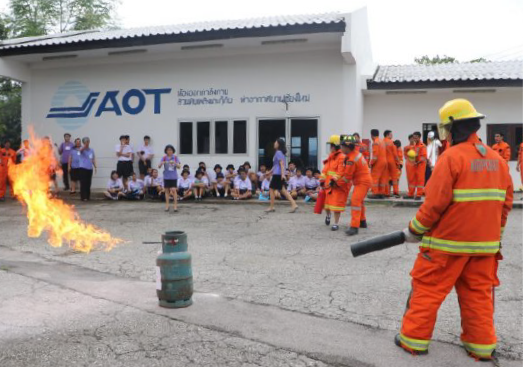 The "Community Ecosystem Enhancement for Sustainable
Development at Khlong Hoi Khong District" Project
Khlong Hoi Khong District is a high potential ecotourism destination and hence AOT has been participating in the promotion to make this community a self-managed sustainable tourist destination.
• The ecosystem destination shall be promoted to reach larger audiences.
• Readiness shall be provided to the community to self-manage the tourism.
• Guide trainings on local arts and cultures shall be provided.
The "HKT Loves Coral" Project
The environmental problems of coastal tourist destinations have been regarded as urgent issues which AOT has been trying to solve by using the strengths of Phuket Airport supported by a team of diving experts accredited by a global certification and a network of marine and coastal resource management specialists.
• Coral nursery colonies have been built and underwater waste collection have been implemented.
• The HKT Junior Environmental Activities were conducted for learning and beach clean-ups.
• Diver trainings were provided to local community members.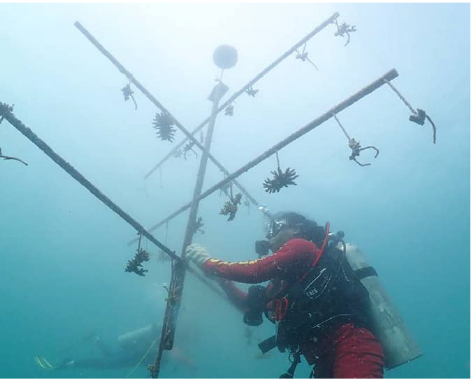 Mae Fah Luang Chiang Rai Airport
The "AOT Returns Happiness to Passengers
through Lanna Cultural Show" Project
The project creates a cultural identity and leaves a good impression on passengers and tourists through the Lanna Cultural and Musical Show performed by a network of elders and youth from the nearby areas. The project has been regarded as an income generating activity for the communities while enhancing relationships among the community members.
• Areas were set up for the Lanna Cultural Show for the youth and the elders.
• The project enhances community strength and engagement.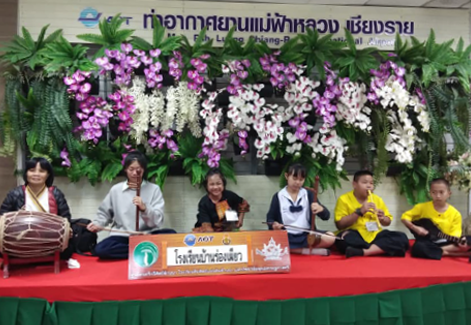 The "Area Development and Equipment and Supplies
Procurement for Youth Development" Project
AOT always care for and pays attention to our stakeholders regarding issues of youth development which enhances the effectiveness of social production effectiveness and creates economic and social equality. The project also develops human capital for our country as social return for the communities and society for sustainable mutual growth.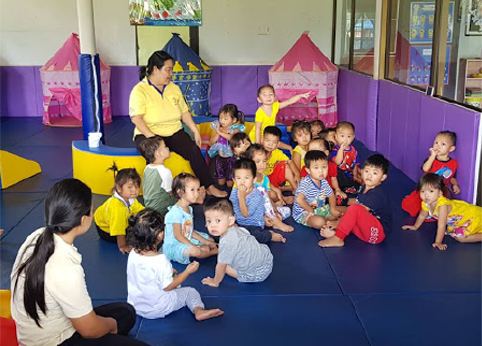 • AOT has built youth development enhancement chambers at Pang Lao Youth Development Center.
• Equipment and supplies for skill development and development assessment kits have been provided.
AOT's social support activities
AOT has been carrying out social support activities in various formats including Cash Contributions, Volunteering Time, In-Kind Giving, and Management Overheads. The proportion of the project value can be shown as 3 categories: Charitable Donations, Community Investments, and Commercial Initiatives, which have been annually revealed and published in the Sustainable Development Report.

Social Return on Investment (SROI)
AOT has made assessments on our social activities by listening to opinions from communities while conducting fieldwork and through our Social Return on Investment (SROI) to establish factors contributing to the reviews of the effectiveness of the projects, the improvement of the strategy and the operating procedure, and the decision making process to expand or extend such projects in the future. The results can also be used in the communication with stakeholders in a tangible manner in accordance with international standards.
Evaluation of the management approach

AOT has established complaint-filing channels for the surrounding communities to support mutual problem solving in a sustainable manner and to improve relationship by assigning the Environmental Impact Mitigation Center (currently located at Suvarnabhumi Airport) as the complaint center for noise pollution, environmental impacts, and other effects in order to cooperate with the communities and support social activities including significant community festivals.