Aerodrome safety and security are of the utmost importance for AOT, as these matters could impact the national confidence therefore, AOT strives towards compliance with security standards to ensure passengers and cargo transportation safety, refrain from legal violations that damage life and property, and minimize potential loss. Additionally, AOT gives priority to occupational health and safety of permanent/temporary employees, contractors, as well as sub-contractors, in order to retain the operational capability and business continuity, thus assuring all stakeholders that all AOT premises are safe and managed in strict compliance with international and domestic standards.
Aerodrome Safety and Security Measurement
Policy and Management Plan
AOT defines Aerodrome Safety Policy in accord with laws, requirements, and suggestions from the International Civil Aviation Organization (ICAO) as frameworks to manage the safety of all six AOT airports. The Organization Safety Management Committee is chaired by the President, and the Airport Safety Management Committee is supervising the implementation of AOT safety measurements to comply with the Aerodrome Safety Policy. Moreover, AOT has issued Aerodrome Manual (ADM), Airport Security Programme (ASP), Airport Contingency Programme (ACP) and Safety Management System (SMS) according to international and domestic requirements. Airport and Aviation Standard Division is in charge of overseeing and supervising the operations to rigorously comply with safety and security standards.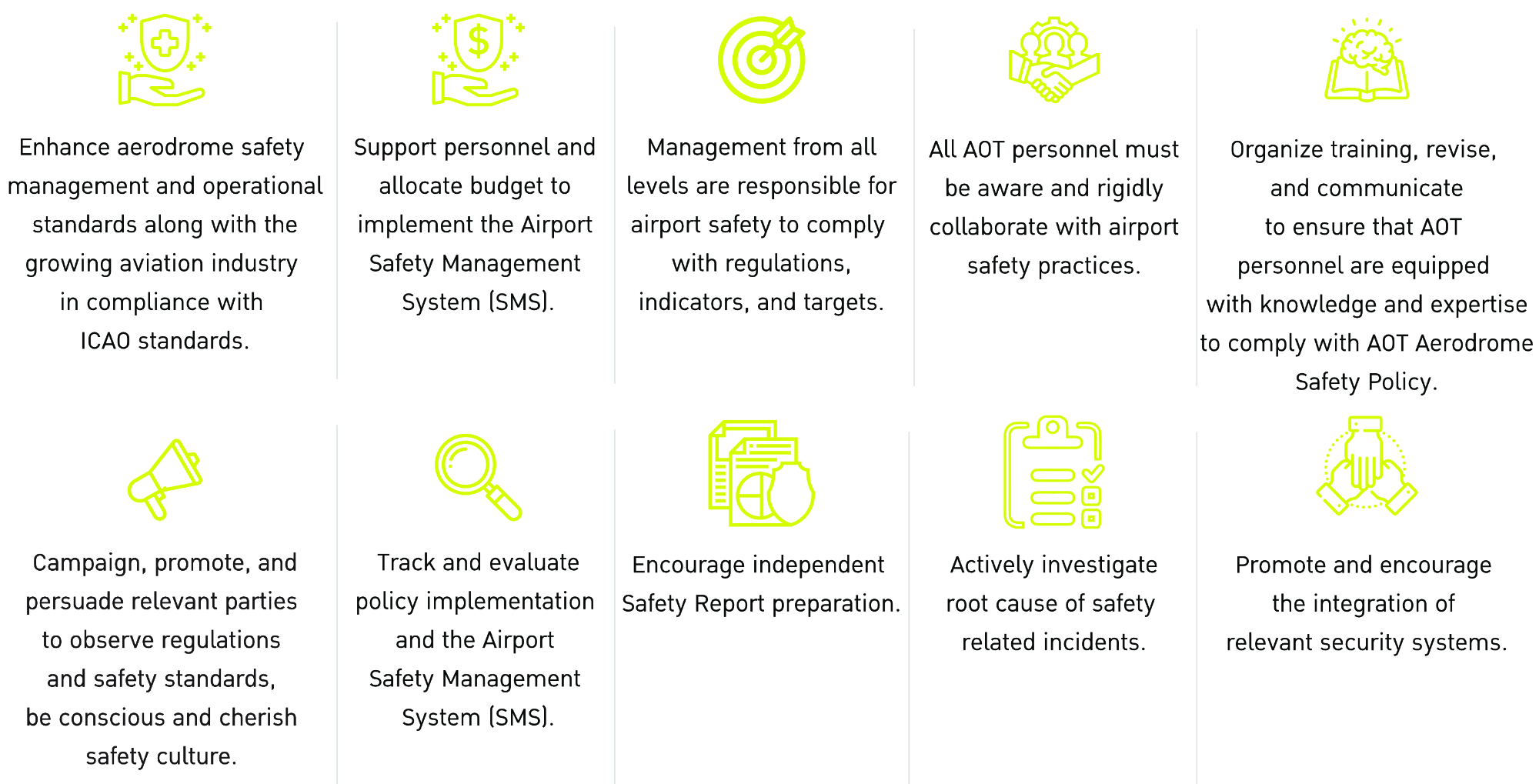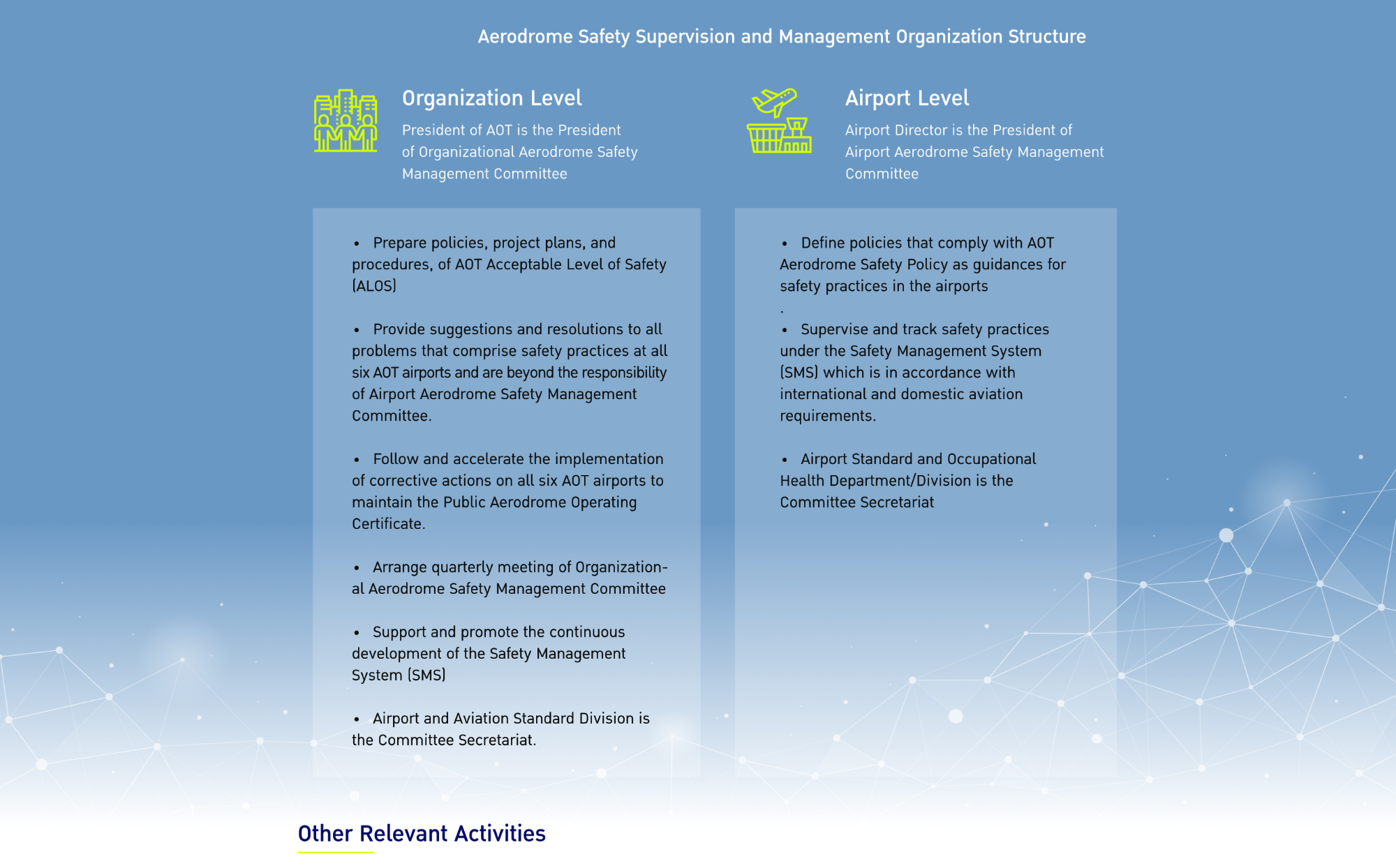 Safety Measurement
Managing Wildlife for Airport Operations
Management of wildlife in the airport especially collision between an airborne animal and an aircraft introduces safety challenge in the aspect of animal behavior and environment that attracts them to operation areas. These incidents must be managed appropriately to uphold aviation safety, reduce aircraft damage as well as the occurrence of accidents that leads to injuries or deaths, and traveling delay.
AOT defines operational measurements to prevent damage from airborne creatures in the airports such as the provisioning of food sources, habitable areas, and appealing items. AOT also observes measurements to drive birds away from airport areas to prevent familiarity through appropriate means which are developed internally following ICAO, Doc 9137 Airport Service Manual Part 3 Wild Control and Reduction such as use of acoustics, image of predatory animals. The Methods are run and controlled by AOT employees who are specialized in Ornithology.
Airport Area Entry Prevention Measurements for Birds and Animals. Assess environment and implement preventive measures on factors that attract birds and animals for foods and habitants such as water troughs, watercourses, lawns, ground conditions, as well as airside fences to prevent animal trespassing and bird hanging, and protect waste storage areas. Strictly monitor the condition around the clock, and apply appropriate action plans upon the discovery of incidents. Evaluate and prioritize risk level for hazardous incidents which could happen as a result of bird or animal presence in the airport, and other activities within 13 kilometers radius from the airport, such as fishing ponds or agricultural enterprises etc. Review and update mitigation plans to align with current ecological systems.
The accident prevention from bird strike at Suvarnabhumi Airport project
AOT realizes the importance of such problems in the proximity of Suvarnabhumi Airport. Therefore, we have been continuously tracking the issue and developing the solution by launching the Prevention of Aviation Incidents from Bird and Animal Presence Project around Suvarnabhumi Airport. This project has already been implemented in three phases, however, dynamic ecological system regenerates source of foods and habitants resulting in variable amount and species of birds from the previous study. In response to this situation, AOT has launched the fourth phase of an additional detailed ecological system survey in the airport and its vicinity which also includes. Identification of bird species through the analysis of deoxyribonucleic acid (DNA) for appropriate planning. The vendor who conducts the fourth-phase survey shall study the ecological system within 15 kilometers radius from the airport and propose plans and guidelines in comply with government regulations and requirements as well as ICAO's practice to appropriately repel birds. AOT, upon completion of the study, shall revise. The accident prevention from bird strike at Suvarnabhum Airport project. The plan is available in both Thai and English and the training session for AOT personnel will be arranged accordingly.
International Communicable Disease Control
AOT follows international communicable disease control protocols in accordance with the Communicable Disease Act B.E. 2558 (2015) issued by Ministry of Health and the International Health Regulations B.E. 2548 (2005) issued by the World Health Organization (WHO) in collaboration with International Communicable Disease Control Section, Bamrasnaradura Infectious Diseases Institute and Bureau Of Epidemiology, Department of Disease Control, Ministry of Health. This is to control identified suspect cases of communicable diseases in the airport terminals, such as Coronavirus (CoV), Ebola virus, or H7N9 avian influenza etc. AOT has prepared the measurement in response of the COVID-19 pandemic outbreak to ensure safety and efficient operation. The measurement can be classified into pre-incident, incident, and post-incident phase, each phase has its clearly assigned person in charge and stated solutions, such as social distancing measurement, maintenance of buildings and facilities cleanliness measurement that includes deep cleansing common touching points, providing of alcohol gel and hand soap around the terminals, measuring body temperature of workers, visitors, and passengers with automatic thermal scanners not exceeding 37.5 Celsius degrees. AOT has also collaborated well with government sections by organizing certain area of the terminal building to the Center for COVID-19 Situation Administration (CCSA) to screen arriving passengers comprehensively and thoroughly and has delegated personnel to CCSA at the Government House, enable us to collaborate and implement government measurement to cope with evolving situations promptly
Airport Security Plan (ASP)
All six AOT airports have prepared airport security plan in compliance with the National Civil Aviation Security Programme (NCASP), issued by the Civil Aviation Authority of Thailand as well as the International Civil Aviation Organization (ICAO) as a guidance and framework for safety operation at each airport. Security measurement plans stipulated in the Aerodrome Safety and Security Measurement for each airport are preventive and proactive plans, which would be reviewed and adjusted continuously to stay up-to-date.
Active Security Measurement
AOT defines active security management measurements in collaboration with international and domestic security agencies such as  Counter-Terrorist Operations Center (CTOC), National Intelligence Agency (NIA), Australian Aviation and Maritime Security (AMS), and US Transportation Security Administration (TSA) to stay alert on threat information and assess potential risks, as well as to inform airports under AOT management to actively prepare and respond to the information in a timely and efficient manner.
Airport Contingency Plan (ACP)
All six AOT airports have prepared their Airport Contingency Plans (ACP) to determine relevant departments, responsibilities, protocols, as well as coordination methods between airport facilitators, air operators, air traffic controllers, local law enforcers, the Civil Aviation
Authority of Thailand and other relevant parties that are tasked to respond to acts of unlawful interference to civil aviation. This is to adhere to requirements in the National Civil Aviation Security Programme (NCASP), relevant standards, laws, rules, and requirements
in order to ensure an effective response to unlawful interference actions.
Airport Safety Management System (SMS)
AOT follows government regulations under the supervision of the Civil Aviation Authority of Thailand (CAAT) by preparing the Airport Safety Management System (SMS) in alignment with government regulations and national civil aviation safety plans. AOT leverages this SMS to drive safety measurements which are consist of four components namely safety policies and objectives, safety risk management, safety assurance, as well as safety encouragement. Additionally, AOT as an airport operator does not stop within its boundary but ensures that airport services are based on safety awareness of airport stakeholders, namely airlines, ground service providers, aviation support units, and government agencies, etc.
Preparation on Contingency and Emergency Response Plan
AOT prepares and examines response plans to be carried out in emergency situations by conducting contingency and emergency response drills together with relevant departments. The training is also inclusive of aviation safety and aviation security following  ICAO guidances in a simulated environment on both full-scale drill and partial drill. This is in compliance with  Regulations of the Civil Aviation Board Number 82 on Airport Security Management System and National Civil Aviation Security Programme (NCASP)
The contingency and emergency response drills must be carried out on an annual basis in all AOT airports, which vary according to unique contexts of each airport as a preparation for emergency situations and develop response and coordination system for greater efficiency and lower potential damages.
AOT and the Government apply several mechanisms to supervise aerodrome safety and security policies, ensuring compliance with legal regulations and international standards to assure safety experiences for customers are the audit of security standards in both physical and operational aspects, which can be categorized into three levels as follows:
Airport Level (Self Audit) - Airport Standard and Occupational Health Division in each airport shall be responsible to audit safety standards at the airport level.
Organization Level (Internal Audit) - Airport Standard and Occupational Health Department at AOT Headquarter shall be responsible to audit safety standards of all airports at least once annually, and also responsible on the supervision of all AOT airports in general, as well as tracking risk statistic reports, define level of risk tolerance, and prepare solutions to reduce/control identified risks to acceptable level for operations (As Low As Reasonably Practicable - ALARP) through the Organizational Aerodrome Safety Management Committee, thereby ensuring that safety deficiencies shall be rectified. Additionally, safety performance shall be measured according to safety indicators and safety targets defined by AOT.
Government Level (State Audit) - the Civil Aviation Authority of Thailand (CAAT), Ministry of Transportation is responsible for auditing and supervising safety standards implemented under AOT control on an annual basis and provide opinions and suggestion to AOT on safety matters. CAAT operations are also under the supervision of International Civil Aviation Organization (ICAO) in the Universal Safety Oversight Audit Program (USOAP).
Other safety assurances are management of wildlife hazards by surveying and assessing danger from birds and hazardous animals in the airside, as well as assessment of ecological systems surrounding the airports.
Sustainability of safety environment could not be achieved solely by regulation enforcement, but this requires sincere and continuous collaboration between AOT and stakeholders, in which AOT has embraced the organization core values "Five Jais" namely Contribution, Confidence, Collaboration, Openness, and Pride, demonstrating our intentions to achieve all targets and visions.
Encouragement of Safety Culture and Safety Measurement
AOT collaborates with external parties in the establishment of safety organizations in both corporate and airport levels. Committee members are representatives from various departments in the airport as well as external stakeholders. The discussion shall be held following defined schedules to exchange identification, identify hazard, assess and mitigate risk events, as well as encourage mutual safety for all parties through communication means thereby resulting in safety cultures such as compulsory and voluntary reporting practices, safety training, safety promotion activities, collaboration, and cultivation of safety core values for employees, encouraging them to strictly comply with safety regulations, verification of equipment conditions before operations as well as observe, inform, and report upon the occurrence of potential risk events.
Occupational Health and Safety for Permanent/Temporary Employee and Contractor
AOT operates responsibly to foster occupational safety for stakeholders, therefore policies on occupation health, safety, and working environment are being implemented accordingly. AOT also provides guidance on the management of occupational health and safety for all permanent and temporary employees as well as contractors. These policies cover all airports and the Headquarter.